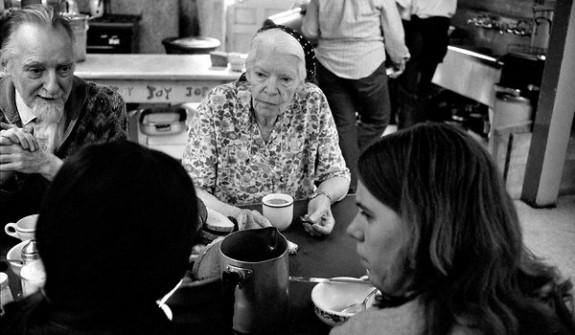 The New York Times takes a look at the latest efforts to promote the sainthood cause of Dorothy Day:
Dorothy Day is a hero of the Catholic left, a fiery 20th-century social activist who protested war, supported labor strikes and lived voluntarily in poverty as she cared for the needy.

But Day has found a seemingly unlikely champion in New York's conservative archbishop, Cardinal Timothy M. Dolan, who has breathed new life into an effort to declare the Brooklyn native a saint.

Cardinal Dolan has embraced her cause with striking zeal: speaking on the anniversaries of her birth and death, distributing Dorothy Day prayer cards to parishes and even buying roughly 100 copies of her biography to give out last year as Christmas gifts to civic officials including Mayor Michael R. Bloomberg.

This month, at Cardinal Dolan's recommendation, the United States Conference of Catholic Bishops voted unanimously to move forward with her canonization cause, even though, as some of the bishops noted, she had an abortion as a young woman and at one point flirted with joining the Communist Party.

"I am convinced she is a saint for our time," Cardinal Dolan said at the bishops' meeting. She exemplifies, he said, "what's best in Catholic life, that ability we have to be 'both-and' not 'either-or.' "

As someone who was both committed to social justice and loyal to church teachings, Day bridges wings of the contemporary church in a way that few American Catholic figures can.

Day, born in 1897 to a nonobservant Protestant family, dropped out of the University of Illinois and moved to New York to work as a journalist for leftist publications in the bohemian literary world of downtown Manhattan. She converted to Catholicism in 1927, citing a spiritual awakening that was accelerated by the joy that she felt upon the birth of a daughter, Tamar. She said she chose Catholicism for many reasons — partly because it was the religion of so many of the workers and poor people whose cause she fought for as a socialist writer, and partly because she had lived in Chicago with Catholic roommates whose faith had deeply impressed her.

She spent decades as a passionate lay Catholic, devoting her life to the principles of social justice, including pacifism and service to the poor, that she felt were at the root of her religion's teachings.

Though she was traditional in her religious practices and strong in her love for the church, her relationship with the church hierarchy in her lifetime was not always smooth. Not a single Catholic bishop came to her funeral in 1980, according to Robert Ellsberg, the editor of her letters and diaries.

But bishops now say Day's life resonates with the struggles that they are most engaged in today: the fight against abortion and their concern about government intrusion in their affairs. In her radical rejection of government — Day believed all states were inherently totalitarian — the bishops see echoes of their fight with the Obama administration over health care.