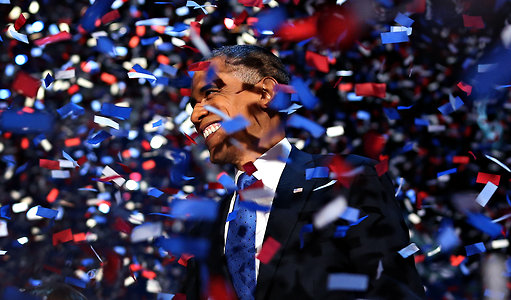 Details, from Catholic News Agency:
The Catholic vote was divided much as was the rest of the nation's voters, leaning slightly in favor of Obama. A final Gallup poll, reflecting tracking from Nov. 1 to 4, showed Catholics favoring Obama by 52 to 45 percent.

"The Catholic vote, like any number of votes, does have the potential to make an impact," said Gregory Smith, a senior researcher who specializes in Catholic politics at the Pew Research Center's Forum on Religion and Public Life.

While they do not vote as a unified group, Catholics are significant in elections because of their large numbers, making up approximately one in four U.S. voters, he said.

Smith said it is difficult to pinpoint what effect the contraception mandate and religious freedom issues are having on the Catholic vote this year.
And there's this:
In his concession speech Tuesday night, Romney encouraged fellow Republicans to join him in praying for President Obama "and for this great nation."

"We look for our pastors, priests, rabbis, and counselors of all kinds to testify of the enduring principles upon which our society is built: honesty, charity, integrity and family," he said.
From the Catholic Sentinel:
The vote is still being parsed, but experts think the majority of the Catholic vote went for President Obama. Catholics who attend Mass weekly seem to have favored Romney.

Catholics represent more than a quarter of the electorate and have voted for the winner of the popular vote in every presidential election since at least 1972. Both campaigns conducted intense outreach to Catholic voters and had Catholic vice presidential nominees. Meanwhile, Hispanic voters also broke heavily for Obama by a 39-point margin.

Exit polls noted that the economy was a top issue and voters were evenly split over which man would do better at fixing it. But the president was seen by voters as more empathetic, some polls said.

It appeared Republicans would retain their majority in the House, and that Democrats would hold their lead  in the Senate.

It's close, but Washington state voters appear to have approved same sex marriage in their state. Voters in Maryland and Maine made the same choice. That breaks a string of 32 losses in various states, including Oregon.

In all three states, the electorate countered an effort by Catholic bishops, who argued that marriage must abide by natural law. Baltimore Archbishop William Lori had priests read a letter in defense of traditional marriage from the pulpit.

Minnesota voters rejected a measure that would have defined marriage as between a man and a woman.
And from Huffington Post:
Despite strong assaults about everything from what opponents have called a "war on religion" for his healthcare reform policy's provisions on contraception coverage and pastors' protests against his support of same-sex marriage to questions over the his support of Israel and his relationship with Jewish voters, President Barack Obama was reelected to a second term Tuesday night with support from religious and especially nonreligious voters.

Obama carried Electoral College votes in several battleground states where religious voters were key parts of the electorate, including Catholic-heavy Ohio, evangelical-heavy Iowa, and Virignia. Another swing stage with a large population of religious voters, Florida, was too close to call by early Wednesday morning.

In his concession speech from Boston, Republican challenger and former Mass. Gov. Mitt Romney congratulated Obama, saying it was a time of "great challenges" in America and that "I pray the president will be successful in guiding our nation." He thanked supporters for their prayers and said Americans will "look to our pastors and priest and rabbis and counselors of all kinds" as the nation moves on from the election. "Ann I join you to earnestly pray for him and for this great nation," he said, asking God to "bless America."

Speaking at his victory speech in Chicago, Obama thanked supporters and "every American who participated in this election," saying that voters "reaffirmed the spirit that triumphs." Returning to his motivational, pastor-like tone that was common in his first campaign, Obama referenced the American "belief that our destiny is shared" and said a sense of "love, charity, duty and patriotism" is the hallmark of the nation's culture.

"Together, with your help and God's grace we will continue our journey forward and remind the world just why it is that we live in the greatest nation on Earth. God bless you. God bless these United States," Obama said.

Initial exit polls — which are expected to change through Wednesday as more results come in — showed a mix bag of support for Obama and Romney among religious voters. Among people who said they attend religious services weekly, for example, exit polls indicated Romney took a significant lead. But among voters who said they attend services "occasionally" or "never," Obama had large leads.

Early exit poll results also showed Obama losing the overall white evangelical vote to Romney, but winning the overall Catholic vote by just a few points. Among Jewish voters, initial exit polls showed Obama having an overwhelming lead over Romney, but preliminary results also showed him winning a smaller percentage of the Jewish vote than he did four years ago.
UPDATE: Some additional insight from Get Religion, which cites this wrapup from USA TODAY : 
The changing U.S. electorate split in two Tuesday — not only along lines of political party and ideology but also by race and ethnicity, gender and marital status, region and religion, education and age. The divisions are even sharper than they were four years ago, when Obama attracted broader support, especially among whites.

But this time the contest was much closer in a country that is undergoing tectonic shifts in its demography. "We have never had a more polarized electorate," Republican pollster Whit Ayres says.

If there was one thing that seemed to unite the nation, it was a sense that the stakes were high and the election mattered.
And then, they note:
So where does this go? Where will journalists be looking for the next wrinkle in this story?

The reality that trumps many of these religious divisions is, of course, race. At some point, cultural conservatives are going to have to find a way to separate married and religious African-Americans and Latinos from the single adults and secular people in those large ethnic groups. White voters divide alone lines of religious practice (the "pew gap") and marital status, while black and Latino voters do not.

If cultural conservatives are not able to do this, then do the math.