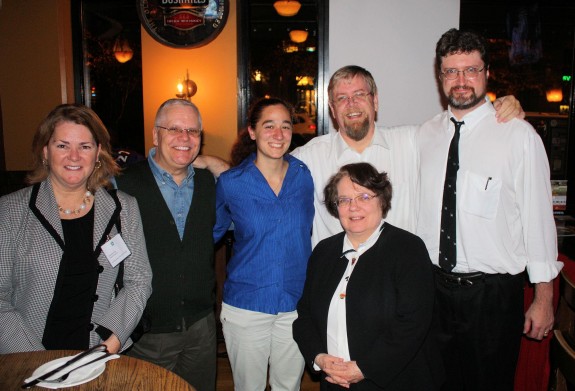 Well, for a few hours on Sunday, Baltimore had another team to contend with beside the Ravens or the Orioles.
Above are some of The Patheos Posse of bloggers, who descended on Charm City to take part in the "Encounter With Social Media: Bishops and Bloggers Dialogue," part of the USCCB's fall gathering.
Shown above: Lisa Hendey, Your Humble Blogger, Leah Libresco (who, by the way, is being baptized next weekend!), Mark Shea, Thomas McDonald and Kathy Shiffer, who blogged about the encounter here.
Kathy's also got some other neat pictures from the event, too, with cameo appearances from people like Brandon Vogt, Kevin Knight and Rocco Palmo!

The missing link, alas: Elizabeth Scalia. She was planning to be there —in fact, she helped organize the posse—but got indefinitely delayed at the airport on Long Island, and never made it to Baltimore. 🙁