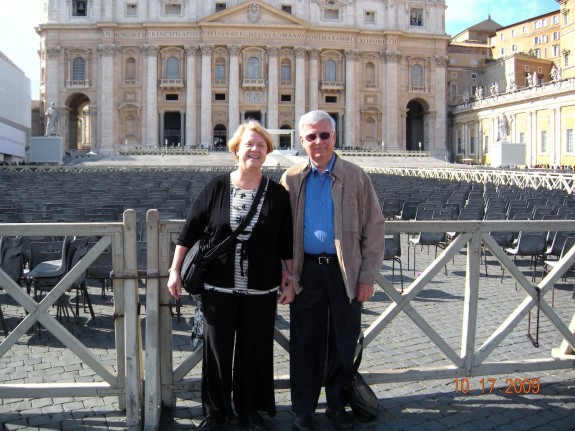 Just in time for Christmas, members of Holy Nativity parish are joining the church.
Details, from the press release:
Former Anglican priest Lowell Andrews, of Payson, Arizona, will be ordained a Catholic priest on Sunday, Dec. 16, and 30 of his parishioners will be received into the Catholic Church as part of the Ordinariate of the Chair of St. Peter, a new national entity created by Pope Benedict XVI.

The ordinariate, which is equivalent to a diocese, but national in scope, was established on January 1, 2012 for Anglican clergy and groups seeking to become Catholic, while retaining aspects of their Anglican heritage and liturgy.

Tucson Bishop Gerald F. Kicanas will ordain Andrews on Sunday, Dec. 16, 2012, 2:00 p.m. at the Church of the Holy Nativity, 1414 North Easy Street (corner of Bradley & Easy Sreets), Payson, AZ 85541. Monsignor Jeffrey N. Steenson, head of the ordinariate, will concelebrate the Mass and receive the members of Holy Nativity (www.holynativitypayson.org) into the Catholic Church.

Andrews is the first Anglican priest in Arizona and part of the first group of priests nationwide to be ordained for the Catholic ordinariate. Rector of Holy Nativity for the past seven years, he was ordained an Anglican priest in December 2004 and became Catholic in 2012. He received his undergraduate degree from Nanzan University in Nagoya, Japan. He completed Anglican seminary studies at the University of the South School of Theology in Sewanee, TN in 1986, and completed a Catholic formation program for the ordinariate in spring 2012. He also attended Arizona State University in Tempe (1974) and The Americas Institute of Adlerian Studies in Chicago, IL (1990).

Prior to ordination, he had a 42-year career during which he served as founder and headmaster of St. Paul's Preparatory Academy, and founder and CEO of the San Pablo Residential Treatment Center and the Kachina Center for Alcohol and Drug Recovery, programs of the Episcopal Diocese of Arizona. Andrews left the Episcopal Church in 2002 for the Anglican Church of America. He and his wife, Marilyn, have been married for 25 years. Special permission has been given to former Anglican priests who are married to be ordained Catholic priests for the ordinariate.

The Church of Holy Nativity has owned its property since 1974. Catholic Mass, using an approved liturgy that is based upon the traditional Anglican liturgy, will be celebrated every Sunday and Wednesday at 10 a.m.

The ordinariate will include 27 priests following Andrews' ordination, more than 1,500 people and 35 communities across the United States and Canada. Its Ordinary, Msgr. Steenson, is a former Episcopal bishop who is based in Houston, TX. Msgr. Steenson noted that the ordinations this year "mark a significant moment in the history of Catholic unity."

Two additional ordinariates are located in the United Kingdom (Our Lady of Walsingham) and Australia (Our Lady of the Southern Cross).