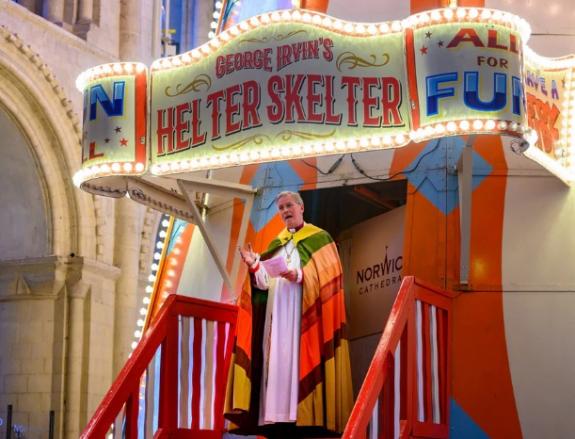 Now for something completely different, from our Anglican siblings: 
A controversial amusement park ride erected in Norwich Cathedral has come down after an 11-day installation.

Rt. Revd. Johnathan Meyrick, the Anglican bishop of Lynn, delivered a sermon midway down the helter-skelter slide during the final liturgy held in the cathedral with the ride present.

"God is a tourist attraction," Meyrick said, claiming that God would be "revelling" in the joy it brought to visitors. During the time the helter-skelter was installed, over 20,000 people came to visit the nearly thousand-year-old cathedral.

While an estimated 10,000 people rode down the 50-foot-high slide, the move drew criticism from Anglicans and Catholic alike.

The Right Reverend Dr Gavin Ashenden, former chaplain to the Queen – who is supreme governor of the Church of England – called the event a "mistake," and misjudged "what a cathedral is good for."

"For such a place, steeped in mystery and marvel to buy in to sensory pleasure and distraction, is to poison the very medicine it offers the human soul," Ashenden told the BBC.

In the sermon, Meyrick defended the decision to place the retro carnival ride in the cathedral, saying, that God wants to be "attractive" for humanity, and "for us to enjoy ourselves, each other and the world around us and this glorious helter-skelter is about just that."
Honestly: Who came up with something like this?