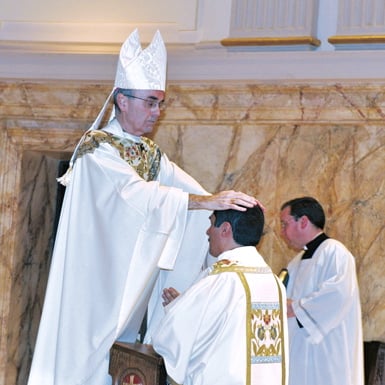 My pastor, Auxiliary Bishop Paul Sanchez, did the honors.
Details, from the Brooklyn Tablet:
When Auxiliary Bishop Paul Sanchez laid hands upon the head of Belen Gonzalez y Perez Nov. 20 at St. James Cathedral-Basilica, Downtown Brooklyn, Father Gonzalez y Perez became the first former Anglican priest to be ordained a Catholic priest in Brooklyn.

He concelebrated a First Mass of thanksgiving Nov. 25 at St. Charles Borromeo Church, Brooklyn Heights, with Father Ed Doran, pastor.

"I've been in discernment about returning to the Catholic community for many years," said Father Gonzalez y Perez. About four years ago, with the full support of his wife, he began taking the first formal steps toward reunion.

Born in Sunset Park and of Puerto Rican descent, Father Gonzalez y Perez was baptized a Catholic as an infant at Our Lady of Perpetual Help Basilica, Sunset Park, but became an active participant in Pentecostal youth groups.

He received his bachelor's degree in philosophy from State University of New York-Empire State College in Saratoga Springs. He went on to receive a master of divinity degree and a master of arts in religion, with a focus on systematic theology, from Gettysburg Seminary in Gettysburg, Pa. While in seminary, his studies included courses at Catholic schools such as Catholic University, Washington, D.C.; the Oblate School of Theology, San Antonio, Texas; and St. Vincent de Paul Seminary, West Palm Beach, Fla.

He was ordained a Lutheran priest in 2002 and received certification as an Episcopal priest in 2008.

He was director of pastoral care at Long Island College Hospital, Brooklyn Heights, and was a non-stipended pastoral associate at nearby Grace Church until becoming Catholic this fall. He hopes to continue in hospital or prison ministry.

Father Gonzalez y Perez's wife, Maria, had been baptized as a Pentecostal but recently joined the Catholic Church and received conditional Baptism at St. Charles Borromeo Church, Brooklyn Heights. Conditional Baptism is conferred when there is a question about the authenticity of the original conferral.

Father Gonzalez y Perez is one of the first group of priests to be ordained for the new Ordinariate of the Chair of St. Peter. Equivalent to a diocese, but national in scope, the ordinariate was created earlier this year by Pope Benedict XVI for Anglican groups and clergy in the U.S. seeking to become Catholic while retaining elements of their Anglican heritage and traditions.

Father Gonzalez, a married man with two daughters, is one of 22 former Anglican priests who have been ordained Catholic priests this year. He and his wife, Maria, have two daughters, Daniela, 16, and Lisandra, 10. They also raised two of his nephews, Ramon, 30, and Jesus, 29.
Read more.  Below, Fr. Gonzalez giving communion to his wife.
Congratulations, padre! Welcome!  Ad multos annos!