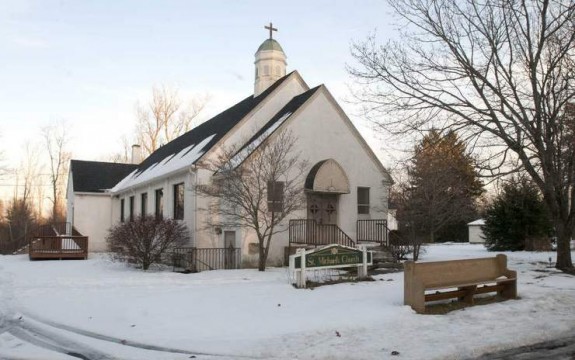 Details, from Mendon, Massachusetts: 
The town has bought St. Michael the Archangel Church and plans to convert the former house of worship on North Avenue into a public library.

The Diocese of Worcester sold St. Michael's and its attached rectory for $360,000.

The new library would replace the Taft Public Library, which is at 18 Main St.

The project was made possible after residents in November approved two debt exclusion questions. The sale price for St. Michael's was negotiated between chancery officials and the Taft Library Board of Trustees.

The church was shut down in September 2011 by Bishop Robert J. McManus as part of the chancery's plan to reorganize the diocese in light of the dwindling number of priests, faltering church attendance and scarce financial resources.

Members of the church were merged with the congregation of Holy Angels Church in Upton into a new parish, St. Gabriel the Archangel.

Diocesan officials said proceeds from the sale of St. Michael's will be used to help defray the construction costs of St. Gabriel's, which is at 151 Mendon St. on the Mendon-Upton line.

Holy Angels is still up for sale, though its rectory was sold for use as a family residence.

Town residents have long complained that the Taft Library is too small for the programs needed. Some town officials believe it would be too expensive to renovate the building because any upgrades would require costly changes to make it accessible to people with disabilities.