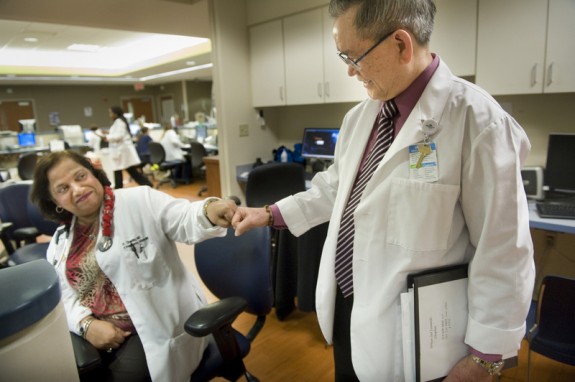 Another terrific profile of a deacon at work, from the St. Louis Review:
Deacon Del Leonardo carries three pagers and a cell phone on him at all times.

It's a necessity in his work as a full-time evening and overnight chaplain at Mercy Hospital in St. Louis, but Deacon Leonardo doesn't mind all of the buzzing and beeping coming from his hip. Rather, he sees those as opportunities to be with patients "in the moment" who are critically ill or close to death.

The 72-year-old never imagined that he would become a permanent deacon, or a chaplain for that matter, but he knows in his heart that this is exactly what he's supposed to be doing.

"What I find most consoling in this work is that if you're effective in bringing that grace to the moment, it is the most important thing you can do for a family," he said. "Whether Catholic or not, the awareness of the meaning of life and death is precious."

A change of plans

Deacon Leonardo was ordained a permanent deacon for the archdiocese by Archbishop Justin Rigali in 2003 and was assigned to assist at St. Joseph Parish in Clayton. His wife of 44 years, Marcella, was completely supportive of his decision.

It initially wasn't a life that he had envisioned. Born and raised in the Philippines, Deacon Leonardo entered the Salesians of Don Bosco, and spent 14 years in formation, primarily in Hong Kong, with the intention of becoming a priest.

But his father had an accident, and Deacon Leonardo, as the oldest son in the house, had to come home and help care for the family. He considered the option of the diocesan seminary back home, but he met Marcella, fell in love, and the two married in 1968. Twenty years later, they moved to St. Louis.

The idea of serving in ordained ministry never left him. "I had this attraction forever in my heart," he said. He and Marcella were not able to have children, so he knew the extra time he had outside of his work in the banking industry would allow him to enter the diaconate formation program.

A work of charity

During his formation, Deacon Leonardo was introduced to various works of charity — including prison work, nursing homes and shelters for battered women — to get an idea of the ministry that many permanent deacons provide beyond the work they do at parishes.

It was during a visit to Sherbrooke Village, an Alexian Brothers-sponsored long-term care residence for the elderly, that Deacon Leonardo had an encounter that forever changed his heart.
Read what happened next. 
Photo: Lisa Johnston