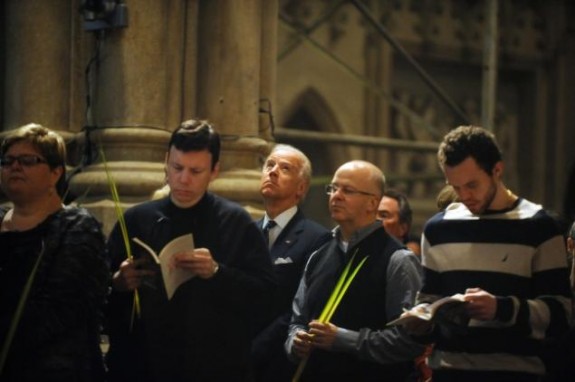 And before anyone asks: yes, he evidently did receive communion.
Vice President Joe Biden attended mass and received communion on Sunday at St. Patrick's Cathedral in New York where the mass was celebrated by Cardinal Timothy Dolan.

At a time when the administration is being sued by Dolan and the Catholic Bishop's Conference over the Obama health care provision on birth control, the meeting was seen as an attempt to create a new dialogue.

An Irish American Catholic, Biden receiving communion was also seen as significant. Dolan's predecessor Cardinal Edward Egan refused to give communion to those who differed with the church on the abortion issue.

Biden says he is pro-life but will not seek to impose his views on others.

Biden met with Cardinal Dolan after the mass for coffee but what they discussed was not made public.

Biden's latest move comes at a time when the Obama administration appears to be using the VP in a new outreach to American Catholics.
The New York Post adds:
"We welcome the vice president of the United States, Mr. Biden, we welcome him here," Dolan told parishioners, celebrating the start of Holy Week at St. Patrick's Cathedral. "You have a place in our thoughts and prayers."

Thousands of parishioners packed Dolan's standing-room-only Mass.

Many were craning their necks to get a good look at Biden, who was all smiles during the Sign of Peace, shaking hands with dozens of people and telling them, "Peace be with you."
"He was very respectful. He sat in the rows with everyone else and didn't bring any attention on himself," said parishioner Marie Griffin, 50, of Yonkers.