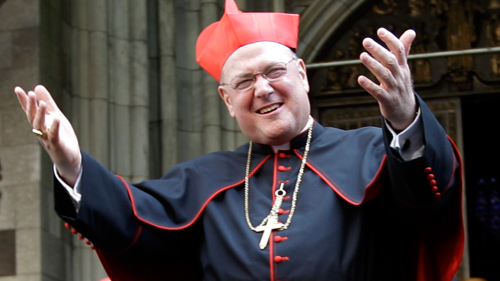 The cardinal, on his blog, explains:
It was a lesson I began to learn when I was seven or eight . . .

My buddy Freddie from across the street and I were playing outside. Mom called me for supper.

"Can Freddie stay and eat supper with us?" I asked.

"He'd sure be welcome, if it's okay with his mom and dad," she replied.

"Thanks, Mrs. Dolan," Freddie replied. "I'm sure it's okay, because mom and dad are out, and the babysitter was just going to make me a sandwich whenever I came in."

I was so proud and happy. Freddie was welcome in our house, at our table. We both rushed in and sat down.

"Freddie, glad you're here," dad remarked, "but . . . looks like you and Tim better go wash your hands before you eat."

Simple enough . . . common sense . . . you are a most welcome and respected member now of our table, our household, dad was saying, but, there are a few very natural expectations this family has. Like, wash your hands!…

So it is with the supernatural family we call the Church: all are welcome!

But, welcome to what? To a community that will love and respect you, but which has rather clear expectations defining it, revealed by God in the Bible, through His Son, Jesus, instilled in the human heart, and taught by His Church.

The Church is Catholic . . . that means all are welcome;

The Church is one . . . that means we have a Person — Jesus — and His moral teaching that unite us;

The Church is apostolic . . . that means that His teaching was entrusted to His apostles, and carefully handed-on by His Church. The sacred duty of the Church is to invite people, challenge people, to live the message and teachings of Jesus.

This balance can cause some tensions. Freddie and I were loved and welcomed at our family table, but the clear expectation was, no dirty hands!

Blessed John Paul II used to say that the best way to love someone was to tell them the truth: To teach the truth with love. Jesus did that — He was love and truth in His very person — and so does His Church.

We love and respect everyone . . . but that doesn't necessarily mean we love and respect their actions.

Who a person is? We love and respect him or her . . .

What a person does? Truth may require that we tell the person we love that such actions are not consonant with what God has revealed.

We can never judge a person . . . but, we can judge a person's actions.
There's much more. Read it all.