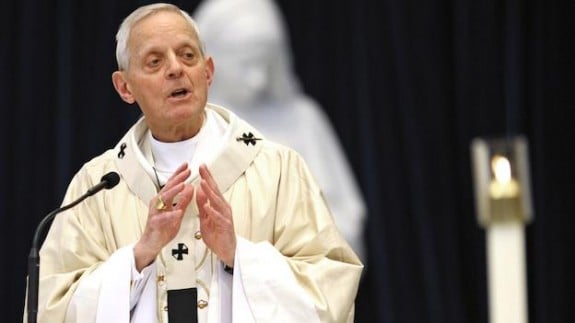 You may remember the story of Fr. Greg Shaffer that made headlines several days back.  Washington's cardinal archbishop Donald Wuerl celebrated Mass and preached a homily on the campus of George Washington University last Sunday.  He's just posted the homily on his blog.
The cardinal concluded: 
The idea that the pastor of a parish today or the chaplain of a religious community and campus ministry today should simply be silenced because he faithfully announces the Gospel of Jesus Christ – that he should not be allowed to engage in dialogue with our culture, even in a place that is dedicated to the free and diverse expression of ideas – may seem somewhat radical today, but you have to remember there have always been those who try to force their totalitarian views on all of us.

When we talk about marriage, when we speak about the dignity of human life, when we teach about the natural moral order, these are all elements that we find deeply rooted in the consciousness of the Judeo-Christian tradition.  Just because someone wants to change all of that today does not mean that the rest of us no longer have a place in this society.

Remember after someone says you cannot speak here, then comes the sentence, "And you do not belong here."

I want to make something very, very clear.  Our response must be the response of Jesus Christ, the response of his Church, a response rooted in love. When we are attacked, there will always be the temptation to respond in kind. But we must respond out of who  we are. We are followers of Jesus Christ.

But we also need to remember that we all know people – homosexual and heterosexual alike – who may disagree with particular teachings of the Church, but do not express that disagreement by demanding that the Church and her ministers be silenced.

We all struggle to live up to the demands of the Gospel – even when we fail – because we know that what Jesus and his Church teach are the words of everlasting life.

The Church calls us to keep trying to draw closer to Christ.  This we do – not because we are perfect – but because he is the way, the truth and life.

We must be inclusive, we must recognize the bonds of mutual charity and we must continue to reach out to all of those brothers and sisters who come to Mass to be with us.  We must be allowed to do so freely.

The Catholic Church welcomes everyone and tries to walk with them on life's journey while at the same time upholding a moral law by which we are all obliged to live.

We have so much more to offer and so does America.  There should be tolerance and respect among all people.  There has to be room enough in America in a society as large, as free and pluralistic as ours to make space for all of us.

Dear brothers and sisters, never be ashamed of Christ, his Gospel, his Truth – or your identity as Jesus' disciples.  Always be proud of who you are.

Thank you for standing up for the freedom to speak our faith and thank you for standing up for your chaplain.

God bless him and all of you.