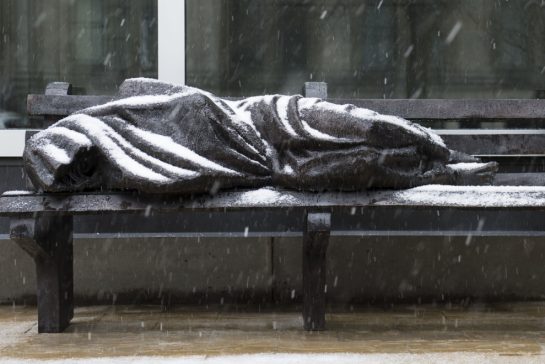 Jesus has been depicted in art as triumphant, gentle or suffering. Now, in a controversial new sculpture in downtown Toronto, he is shown as homeless — an outcast sleeping on a bench.

It takes a moment to see that the slight figure shrouded by a blanket, hauntingly similar to the real homeless who lie on grates and in doorways, is Jesus. It's the gaping wounds in the feet that reveal the subject, whose face is draped and barely visible, as Jesus the Homeless.

Despite message of the sculpture — Jesus identifying with the poorest among us — it was rejected by two prominent Catholic churches, St. Michael's Cathedral in Toronto and St. Patrick's Cathedral in New York.

"Homeless Jesus had no home," says the artist, Timothy Schmalz, who specializes in religious sculpture. "How ironic."

Rectors of both cathedrals were enthusiastic about the bronze piece and showed Schmalz possible locations, but higher-ups in the New York and Toronto archdiocese turned it down, he says.

"It was very upsetting because the rectors liked it, but when it got to the administration, people thought it might be too controversial or vague," he says. He was told "it was not an appropriate image."

The Toronto archdiocese tried to help him find an alternative location, including St. Augustine's Seminary in Scarborough. But Schmalz, who describes his work as a visual prayer, wanted to reach a wider, secular audience. "I wanted not only the converted to see it, but also the marginalized. I almost gave up trying to find a place."

Now the sculpture stands near Wellesley St. W., outside Regis College at the University of Toronto. It's a Jesuit school of theology, where priests and lay people are trained, with an emphasis on social justice.
Bill Steinburg, communications manager for the Toronto archdiocese, says the decision not to accept the sculpture at St. Michael's may have had to do with renovations at the cathedral and "partly to do with someone's view of the art."
You can see some of Schmalz's other works at his website. He may be most familiar to many Catholics for his popular sculpture of the Holy Family, shown below.