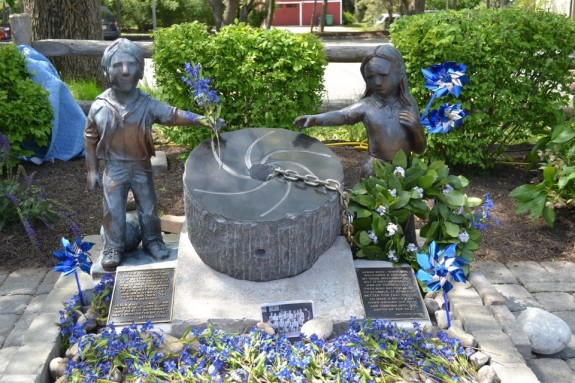 Here's something you don't hear about often: a Catholic parish has erected a memorial to victims of clergy sex abuse.  (Commonly known as the "Millstone Memorial,"
it's pictured above.) But the memorial has had a troubled history.  Details: 
A date has been set to rededicate a monument to child victims of church sex abuse that has been destroyed twice in as many years — even though repairs won't be finished when the ceremony is held.

A ceremony will be held April 28, at 2 p.m., at St. Joseph Church in Mendham, where former Rev. James Hanley abused several children.

Organizer Bill Crane, who, as a child, had been among Hanley's victims, is extending invitations to both Gov. Chris Christie and State Sen. Barbara Buono, Christie's challenger in the gubernatorial race. Also invited will be Bishop Arthur Joseph Serratelli of the Roman Catholic Diocese of Patterson.

"I've gotten so many messages from people saying, 'Why are you making this a political issue?'" Crane said, as last month he said Christie should attend the dedication, or perhaps issue a proclamation recognizing April as Child Sex Abuse Awareness month. The governor, a Mendham resident whose family attends St. Joseph's, hadn't responded to an invitation sent last year, when the millstone memorial was rededicated after an earlier instance of vandalism, Crane has said.

"But this isn't a political issue," Crane said. "These are people who are in a position of moral authority to create some positive change in New Jersey. Frankly, I don't mind saying I think it should be the other way around. They should be contacting us to ask what they can do to help."

Authorities are still working to determine who vandalized St. Joseph Church's memorial to child sex abuse victims in early March. Morris County Crimestoppers is offering $2,000 to anyone who can provide information that leads to the arrest or indictment of the responsible person or people; anyone with any information can call CrimeStoppers at 973-Cop-Call or 1-800-Sheriff.

Crane led the drive to create the monument in honor of James Kelly, a 37-year-old victim of Hanley's who committed suicide. He then led the effort to replace it, after borough resident Gordon Ellis allegedly took a sledgehammer to the monument in 2011. And now he's working to see it repaired again.