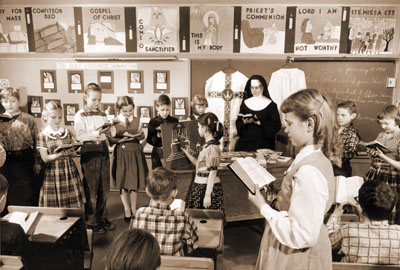 Remember scenes like this one in a Catholic classroom?  Learning the catechism?  The basics of Catholicism?  Things have changed.
Not long ago, I heard of a grade-schooler who was attending his First Communion and, when the pastor in his homily mentioned the honor and privilege of "eating the Body of Christ," the kid freaked.  He had no idea that was what the Eucharist was all about.
And there you have Exhibit A of what Barbara Nicolosi describes in extravagant and angry detail in this garment-rending, teeth-gnashing piece on the failure of modern American catechesis: 
It's long past time for the Catholic Church in the United States to acknowledge and address the fact that in many, possibly most, dioceses, parish-based catechesis has been an abject failure. In the vaunted Year of Faith, it should sting all of our leaders and pastors that few of the ever-dwindling percentage of Catholics in the pews on a Sunday morning could pass a basic catechetical quiz. How many Gen X Catholics could name one of the precepts of the Church or recall any one set of the Mysteries of the Rosary? How many of our teenagers could list all Ten Commandments? How many First Communicants could recite the Acts of Faith or Hope, or name the Seven Sacraments? The terrible, tragic, and fundamental truth for 21st-century Catholicism is, not many!

It's beyond my scope here to say how devastating and even cruel it is for the Church Militant to perpetuate Her systemic failure in this area. Ignorance leads to suffering. Religious ignorance leads to eternal death.

We are awash in a broader culture of banality, ugliness, and stupidity, and we have several generations of disciples who are completely incapable of coping with it because of their double ignorance of their faith. Double ignorance, from Plato, means they don't know, and they don't know that they don't know.

I'll stipulate that there are some exceptions—parishes here and there that are handing on the faith well and forming solid little disciples. But they are the great exception and we can't let the fact of their existence derail the urgent discussion of what we have to do about rest.

About a month ago, a convert friend called me with pained concern in her voice. "Caitlin has been going to St. Charles' religious education program for more than a year now. She is supposed to make First Communion, but we are worried because she doesn't know anything." This news hit me hard. This was a family that had been catechumens in a RCIA program that I created in Hollywood for people in the entertainment industry who were coming into the Church. Caitlin, her mother and father and her little sister Laurie, were all accepted into the Church a few years ago, and now they were dealing with the scandal of banal catechesis. I agreed to meet with eight-year-old Caitlin.

It was shocking what she didn't know, especially because St. Charles was going to let her receive First Communion in this state of unknowing. She didn't know what Original Sin is. She didn't know the difference between a mortal and venial sin or of what an examination of conscience should consist. She didn't know what grace is, or what the Trinity is, or what we mean by the Holy Eucharist. As a result of all this unknowing, Caitlin hated going to Church and thought the religious education classes she associated with the Church were boring and stupid.