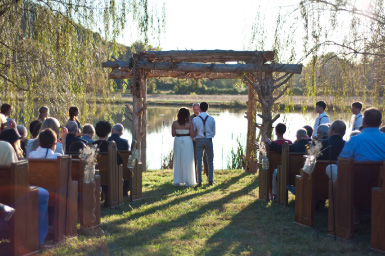 This happens three or four times a year: someone I don't know drops me an e-mail asking if I can perform a Catholic wedding in some place other than a church. Outdoors, maybe, or a catering hall.
The presumption seems to be that if a priest can't do it, maybe a deacon will.
So it was that I got this query about  two weeks ago from a young woman in New York:
I am in the process of looking for a deacon to marry my fiancé and I next May 2014. I am finding it very challenging as I am raised Catholic but I am not getting married in the church. However it is very important to me and my fiancé to have our religion incorporated in our ceremony.
We swapped a couple of e-mails and I learned that the wedding will be happening in the garden of a Manhattan restaurant.  I explained that Catholic weddings are supposed to take place in a parish church, and only rarely (usually for a good reason) does the local bishop grant an exception.  I told her that since she is in a different diocese from mine, that complicates matters. It would be best, I wrote, to get married in your local parish or to pursue this with a priest or deacon in the Archdiocese of New York.  I provided her with some contact numbers and names.
I also directed her to a post from last year that explained the thinking behind this. Since this is prime wedding season, now seems a good time to give this a second look.
One of the arguments brides will raise is that priests say Masses outdoors or in baseball stadiums all the time; why can't they do weddings there?  Good question.
Here's my take:
A priest may bring Christ to the people and into the world by celebrating the Mass in an unusual public venue  – a mall or a beach or a cruise ship dining room.

But a marriage is different.

By bringing themselves before the Church, and into a church, and bearing witness in that sacred setting, a couple performs a public act of humility, and faith, and belief.

They don't expect God to come to them.  They go to Him.

It is a deeper sign of how they are beginning their lives together, and what will be important in their marriage.

Pastoral considerations, and special circumstances, might call for making some adjustments.  But it seems to me: two Catholics who grasp the commitment they are making, and who understand what is at stake, and who believe in the faith into which they were baptized, should not really want to be married anywhere else.
Also, it's worth reading what the catechism has to say on the subject, noting that the celebration of marriage is a liturgical act:
The priest (or deacon) who assists at the celebration of a marriage receives the consent of the spouses in the name of the Church and gives the blessing of the Church. The presence of the Church's minister (and also of the witnesses) visibly expresses the fact that marriage is an ecclesial reality.

1631 This is the reason why the Church normally requires that the faithful contract marriage according to the ecclesiastical form. Several reasons converge to explain this requirement:

– Sacramental marriage is a liturgical act. It is therefore appropriate that it should be celebrated in the public liturgy of the Church;

– Marriage introduces one into an ecclesial order, and creates rights and duties in the Church between the spouses and towards their children;

– Since marriage is a state of life in the Church, certainty about it is necessary (hence the obligation to have witnesses);

– The public character of the consent protects the "I do" once given and helps the spouses remain faithful to it.