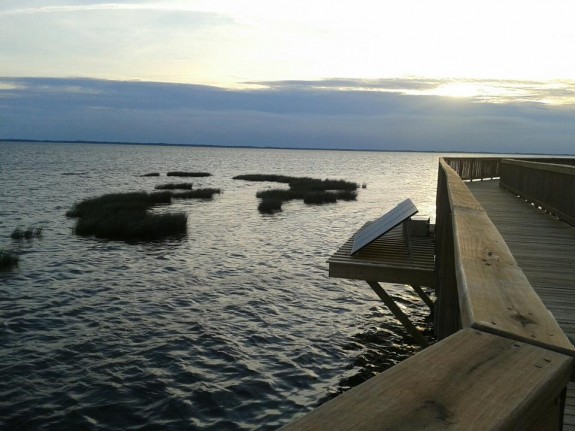 On this day when so many of our hearts are breaking, I thought this reflection from Joe Marotta— posted almost exactly a year ago, as he concluded another vacation at the beach—was worth sharing. (The picture above, uploaded to his FB page at the time, carries the caption: "Great view to end the day!") Here, Joe reminds us of the love that never fails. 
+++
My family spent the past week at the beach. The weather has been great, and I have enjoyed watching my four children play in the surf and sand. It was not too long ago that Katie and I would not even think of allowing them to go near the water without one of us within arm's reach. As their swimming ability improved, so did our comfort level – first ankle deep, then knees, until now we are able to enjoy the sun on the beach as they frolic in the waves. However, we still find ourselves counting heads every few moments… just to be sure. My guess is that we'll do that forever.
Today is the Solemnity of the Most Sacred Heart of Jesus. It is a feast that calls us to reflect upon the love God has for each of us. The readings proclaimed during Mass today help us in this endeavor. The First Reading – from the Book of Hosea, opens with a reminder that God's love is a parent's love: "When Israel was a child I loved him, out of Egypt I called my son…I fostered them like one who raises an infant to his cheeks." The intimacy of this passage is quite profound! Our God is no distant deity – his care and concern bring him as close as a parent's affectionate embrace.
As we grow, we become less and less fond of that embrace. We seek to find our own way, and crave independence. Still, even after our parents relent and allow us to head out on our own, they are usually not far behind – read to pick up the pieces. My kids may think they are on their own in the ocean, but it would only take one big wave to propel Katie and I out of our beach chairs and into the surf.
And so it is with God. His love for us is not conditioned on our making good choices. He is there for us regardless. Hosea reminds us, "though I stooped to feed my child, they did not know that I was their healer." The Sacred Heart of Jesus is with us whenever we encounter sacrificial love. Whenever we sacrifice for others, we participate in the Sacred Heart.
As we enter into this Father's Day weekend, I invite us to call to mind all of the sacrifices our fathers made (or continue to make) for us – to provide for our material, emotional and spiritual needs. However expressed, that gift is a constant reminder of the love God has for each of us. No matter how big the wave, there is always a loving arm to keep us safe.