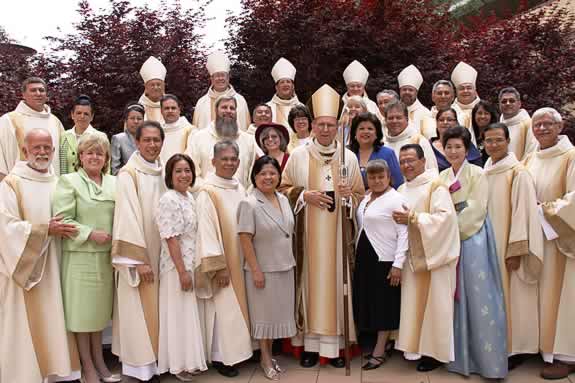 Some words to ponder from Mary Gannon Kaufman, the wife of a deacon candidate, from Homiletics and Pastoral Review:
I was at a retreat in another diocese, when a man in formation for the permanent diaconate was sharing his recent experience with the Rite of Candidacy. His eyes glistened as he looked towards heaven and he said, "It was so moving to step up on the altar with the archbishop, leaving our women behind. Our women have to get used to letting us go so we can serve God." His comments hit me flat and drew my own heart to Jesus to offer it up in silence. Is that what it means for a man (and a woman) when he enters formation for the permanent diaconate, "to leave his woman behind?" He motivated my prayer and reflections, in this Year of Faith in the commemoration of the start of Vatican II, about what it means to be a woman in the Church who is married to a permanent deacon or one in formation.

It is not just about staying in the pew and being quiet. Diaconal formation is a graced summons for the woman, too, to cultivate her baptismal gifts in service of her family, the world, and in her own distinct way, the Church. As I wrote to a priest friend, "The Lord knows that we are sitting out there, and will touch each woman uniquely and individually with his will, and the aspects of her baptismal vocation that synergizes with his desires and the call of her husband."

Most spiritual writers describe that when persons open their lives to the Holy Spirit, the Holy Spirit integrates their gifts and energies into a synthesis of love in service of the Kingdom. In the mystery of God's providence, God knows how to allure us into his preferences for our lives. He gifts us personally as we each possess distinct personal vocations, or as Hans Urs von Balthasar describes in Christian States of Life, a unique grace of personal mission associated with our baptisms. At confirmation, we each can give our assent, to voice our intention to live out the promptings more fully that were planted in us at baptism.

Von Balthasar insists that these graces are hard to overlook as they "open up for humans a field of activity" 1 and create in the heart "a center of gravity, an adhesion within the personality that draws all the forces of his (her) nature into a clear and definite pattern. They form in his (her) nature a task or station that he (she) undertakes that is pleasant and rewarding." 2 God draws us to his will, which is distinct for each person.

Women who pray for the Church, and who are spouses of permanent deacons (or those in formation), are undoubtedly responding to a unique grace of personal mission that comes to them as a result of their baptism. It works in harmony with their state in life, and is impacted by their gifts and talents. The Holy Spirit guides us uniquely in a path towards holiness, and utilizes everything about us, and in us, to accomplish his will. His will for each of us is to follow his summons and utilize our gifts to serve others in response to him…

…The experiences of the families of the newly ordained permanent deacons in the Archdiocese of Indianapolis, this summer, seem to confirm the wisdom of John Paul II. Laura Wagner, at the ordination to the permanent diaconate on June 29, 2012, of her father, Rick Wagner, said, "Seeing the relationship of my mom and dad grow (through the deacon formation program) has inspired my fiancé and myself to make sure that our relationship is Christ-centered." 7 Her fiancé added, "With him just being ordained, it's a tremendous witness. It sort of sets the bar for us who are trying to be witnesses to other people through our marriage." In fact, earlier that same day, before the ceremony at the cathedral, Deacon Wagner and his wife, Carol, spent time in prayer, during which, she gave him a new wedding band. "It has three braids on it because God's always been a part of our marriage," Carol said, holding back tears after the ordination. "But now, we are really braided together."8added, in response to her husband's ordination the same day, "Although we have been married for more than half a century, my husband, becoming a deacon, has given us new blessings. It's broadened our interest in Christ, and brought us closer together in prayer, (a closeness) that we didn't have before." 9 And in celebration of this occasion, Bishop Coyne thanked the wives of the new deacons in his homily, and called them "partners in their husband's ministry." 10

As partners in our husbands' ministry as well as agents of our own, how do we understand the personal vocation of the wife of a permanent deacon, as women and baptized persons? Sometimes, our practice of the faith has to be unpacked for awhile, so the Lord can lead us into his heart and mind over time. The work of theologian, Cardinal Yves Congar, whose work made a huge contribution to Vatican II and the role of the laity, helps us explore the energizing and complementary vocational states for permanent deacons and their wives. Their unity and distinct differences are willed by God to energize their witness in the world and Church…

..A woman, accompanying her husband to diaconal formation, or who ministers both alongside him, and sometimes independently from him in the parish, is developing and exercising the gifts of her baptism. Like all the baptized, she receives gifts of service for the community, or charisms, that can synergize with her husband's, and extend both their contribution to the Church and world as a couple—and hers as an individual.