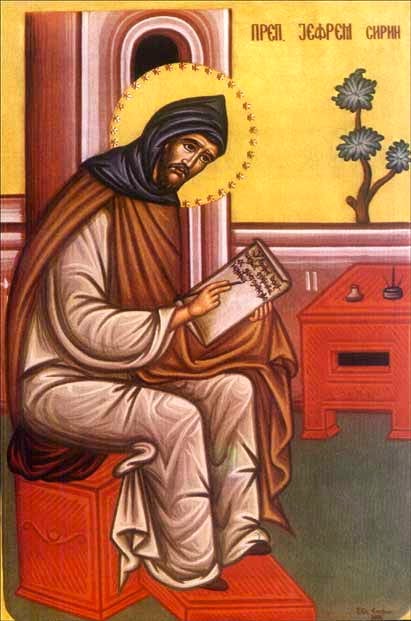 Today marks his feast, and deacons (among others) should take note: 
Born around 306, Saint Ephrem lived through some of the most tumultuous times in the early Church. Heresies, especially Arianism, were rampant; the Church faced persecution; and without Christ's promise that the gates of Hell would not prevail against it, the Church might not have survived.

As a deacon, Saint Ephrem distributed food and other necessary goods to the poor, but just as deacons do today, he also assisted priests in preaching the Gospel. His most effective tools for helping Christians understand the True Faith were the prayers (such as the penitential Prayer of St. Ephrem the Syrian, recited by Eastern Catholics and Eastern Orthodox during Lent) and the hundreds of hymns that he composed.
Wikipedia adds:
Ephrem, with the others, went first to Amida (Diyarbakır), eventually settling in Edessa (modern Şanlıurfa) in 363. Ephrem, in his late fifties, applied himself to ministry in his new church and seems to have continued his work as a teacher, perhaps in the School of Edessa. Edessa had always been at the heart of the Syriac-speaking world, and the city was full of rival philosophies and religions. Ephrem comments that orthodox Nicene Christians were simply called "Palutians" in Edessa, after a former bishop. Arians, Marcionites, Manichees, Bardaisanites and various gnostic sects proclaimed themselves as the true church. In this confusion, Ephrem wrote a great number of hymns defending Nicene orthodoxy. A later Syriac writer, Jacob of Serugh, wrote that Ephrem rehearsed all-female choirs to sing his hymns set to Syriac folk tunes in the forum of Edessa. After a ten-year residency in Edessa, in his sixties, Ephrem succumbed to the plague as he ministered to its victims. The most reliable date for his death is 9 June 373.
From the Office of Readings, part of a sermon from the saint:
Lord, shed upon our darkened souls the brilliant light of your wisdom so that we may be enlightened and serve you with renewed purity. Sunrise marks the hour for men to begin their toil, but in our souls, Lord, prepare a dwelling for the day that will never end. Grant that we may come to know the risen life and that nothing may distract us from the delights you offer. Through our unremitting zeal for you, Lord, set upon us the sign of your day that is not measured by the sun.

In your sacrament we daily embrace you and receive you into our bodies; make us worthy to experience the resurrection for which we hope. We have had your treasure hidden within us ever since we received baptismal grace; it grows ever richer at your sacramental table. Teach us to find our joy in your favor! Lord, we have within us your memorial, received at your spiritual table; let us possess it in its full reality when all things shall be made new.

We glimpse the beauty that is laid up for us when we gaze upon the spiritual beauty your immortal will now creates within our mortal selves.

Savior, your crucifixion marked the end of your mortal life; teach us to crucify ourselves and make way for our life in the Spirit. May your resurrection, Jesus, bring true greatness to our spiritual self and may your sacraments be the mirror wherein we may know that self.

Savior, your divine plan for the world is a mirror for the spiritual world; teach us to walk in that: world as spiritual men.

Lord, do not deprive our souls of the spiritual vision of you nor our bodies of your warmth and sweetness. The mortality lurking in our bodies spreads corruption through us; may the spiritual waters of your love cleanse the effects of mortality from our hearts Grant, Lord, that we may hasten to our true city and, like Moses on the mountaintop, possess it now in vision.