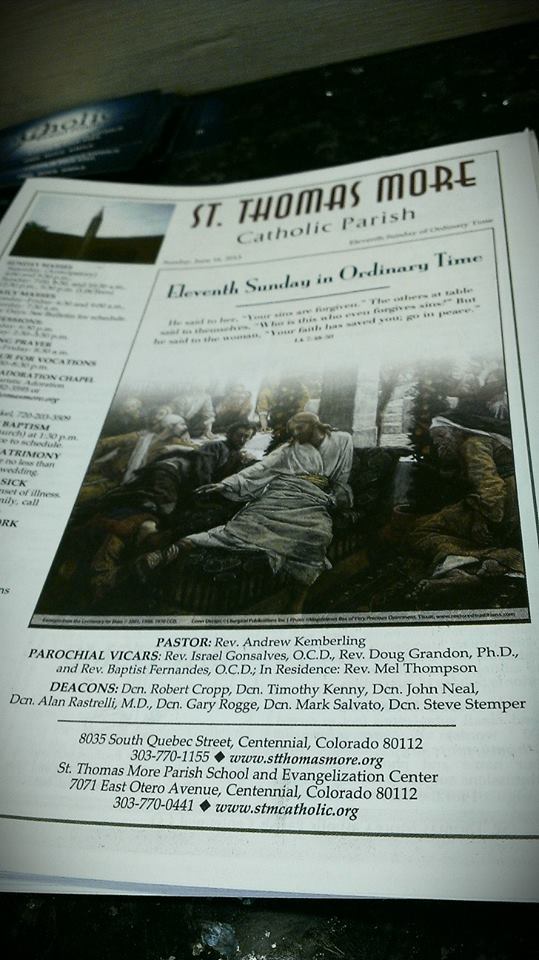 Here in Denver for the Catholic Media Conference, I was struck by the bulletin for a local parish, which shows a whopping seven deacons.
I visited the parish website and found even more astonishing facts (as of December 2012):
Registered individual Catholics: 15,730
Registered Catholic families: 4,500
Estimate of young adults (8-25): 1,649
Estimate of Adults 70+ age: 982 (numbers may be low because registrations before 1991 did not have records for birthdays, etc.)

Sacraments
Total infant Baptisms (up to 1 year): 97
Total infant Baptisms (up to 7 years): 24
Total Baptisms (8-17 years): 16
Total Baptisms (18+ years): 10
Total RCIAs: 24
Total First communion: 344
Total received into full Communion: 18
Total Confirmations: 353
Total Canonically celebrated marriages: 22
Total marriages celebrated with a dispensation from canonical form: 3
Total interfaith (mixed) marriages: 3
Total funerals: 42
Total Sacrament of the Anointing of the sick: 246

Vocations fostered at St. Thomas More
15 priests (includes 5 from the STM Neocatechumenal communities)
10 deacons
3 sisters
1 brother
11 seminarians (Society of Jesus: 2, Legionaries of Christ: 1, Congregation of the Holy Cross: 1, Notre Dame Seminary: 1, St. Michael Abbey: 1, Archdiocesan: 5
1 in diaconate formation (2nd year); 1 accepted for formation (2013)
All this, plus seven Masses for Sunday (including one for teenagers), Perpetual Adoration, a weekly Holy Hour for Vocations, and a jam-packed bulletin that manages to be both informative and educational.  Visit the website for more.  And check out the video below.  The parish of St. Thomas More is clearly doing something right.