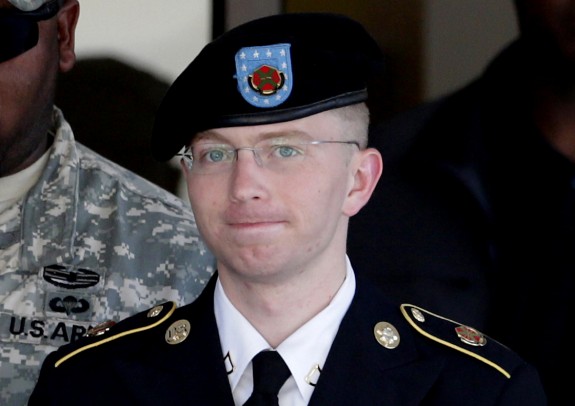 Yes, editors are seriously wrestling with this question. Evidently, some contend that a person's desire to be something trumps the reality of his or her actual gender.
From the New York Times:
It was an announcement that left typically agile news presenters, reporters and editors stumbling over their words on Thursday: the lawyer for Pfc.Bradley Manning told the "Today" show that his client would like to be considered a woman and referred to as Chelsea.

With that, the debate over how to refer to Private Manning exploded in newsrooms, comments, blogs and Twitter. From the initial interview with Private Manning's lawyer David E. Coombs, the "Today" host Savannah Guthrie used both references, but many news outlets continued to refer to Private Manning as "he."

Erin Madigan White, an Associated Press spokeswoman, said the company would follow its own stylebook, which advises journalists to "use the pronoun preferred by the individuals who have acquired the physical characteristics of the opposite sex or present themselves in a way that does not correspond with their sex at birth."

On Thursday night, The A.P. said it would use gender-neutral references for Private Manning and "pertinent background on the transgender issue."

National Public Radio will continue for now to refer to Private Manning as "he," according to a spokeswoman, Anna Bross. "Until Bradley Manning's desire to have his gender changed actually physically happens, we will be using male-related pronouns to identify him," she said.

Rich Ferraro, a spokesman for Glaad, a gay-rights group, said he had been reaching out to news organizations to change their usage. He noted that nearly every major style guide says the media should use the pronoun preferred by the subject. "All of the media coverage today shows how far behind the media is covering transgender people," said Mr. Ferraro.

The New York Times stylebook guides writers typically to refer to a subject the way he or she prefers. But Dean Baquet, the managing editor of The Times, said in an e-mail: "Generally speaking we call people by their new name when they ask us to, and when they actually begin their new lives. In this case we made the judgment readers would be totally confused if we turned on a dime overnight and changed the name and gender of a person in the middle of a major running news story. That's not a political decision. It is one aimed at our primary constituency — our readers."
Read more.
In my judgment, Manning is a man until legally (or surgically) the situation changes.