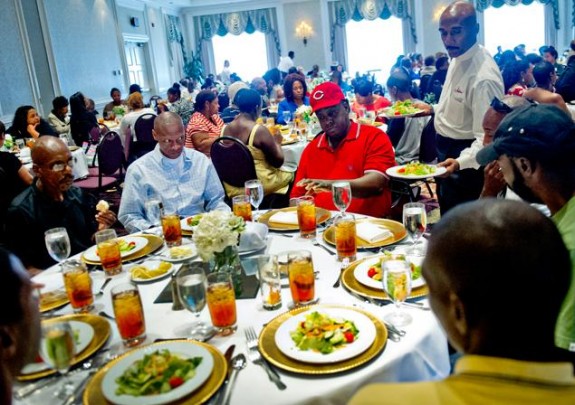 [Click here for the readings.]
This gospel couldn't be more timely—or more challenging.
This familiar story of a "Have" and "Have not" comes at a moment when it seems the gap between the rich and the poor in our country has never been greater. The numbers tell the story. About one in six Americans are on food stamps. Over 46 million are living in poverty – including 16 million children. Over 600-thousand of those poor are also homeless.
The hard truth is inescapable: the world today is crowded with Lazaruses.
Which is one reason why an event that happened in Atlanta two weeks ago was so remarkable.
The story involves a young woman named Tamara Fowler. In August, about a month before her wedding, Tamara decided to break off her engagement. She called off the wedding. Her parents, Carol and Willie Fowler, had sunk thousands of dollars into planning a dinner reception for 200 guests at Atlanta's Villa Christina restaurant. The Fowlers were heartbroken for a lot of reasons—not the least of them being that the event was already paid for.
The father of the bride thought about the situation, talked it over with his wife, and prayed about it one night before going to bed.
The next morning, he later said, he knew what they had to do.
And what they did made news around the country.
The Fowlers decided to go on with the dinner as planned—but not with the original guest list.
They invited, instead, a different group: 200 men, women and children who were homeless.
The Fowlers called a nonprofit organization called Hosea Feed the Hungry in Atlanta. The woman who picked up the phone later said she was so shocked, she thought it was a prank call. The Fowlers arranged a meeting and explained what they wanted to do. They told the woman at Hosea that they especially wanted to help children—70 percent of the homeless in Atlanta are kids—so they set out to make it a reality.
And so, on September 15, buses brought dozens of needy people to one of the premiere wedding venues in Atlanta. Children had space outside to run and play. Face painters and jugglers were hired to entertain them.
The kids, it turned out, had to be shown how to eat hors' d'oeuvres, how to use the right fork. They weren't used to eating off fine china. They had never experienced anything like it before.
And at evening's end, the caterer was amazed. For the first time, she said, at the end of a big wedding there were no leftovers. Every plate was clean.
For a little while, a few of the Lazaruses in the world—people who otherwise felt overlooked and discarded and helpless—did not go hungry.
They were given an immeasurable gift: the gift of dignity.
It is a gift, the gospel reminds us, that each of us is called to share with those struggling with the hard reality of a hard life. We cannot escape the urgent commandment to love one another—particularly the poor.
There are two things about this gospel, I think, that are important to remember.
First, the context. In Luke's gospel, it is one of several key stories that Jesus told his apostles as he was making his way to Jerusalem to suffer and die. We've been hearing these parables for the last few weeks. I'd urge you to look them over in the missal. They matter. Greatly.
Given when they occur in the life of Christ, they take on added urgency. These are the last lessons he would share before his Passion—and as a result, they are among the most important ones Christ wants us to remember.
They are lessons of selflessness and sacrifice.
They warn us: you cannot love God and mammon.
They remind us: we are all prodigals, and God's mercy endures forever.
They exhort us: you need to turn your back on the things of this world to truly be a disciple.
And they challenge us: do not ignore the poor.
And that's the second point I wanted to make this morning. Sometimes the most serious sin we can commit isn't an action. It's inaction. The rich man is damned not for what he did, but for what he didn't do. He continually saw Lazarus suffering, and did nothing. We are left to conclude that this was his great sin.
And we are left to ask ourselves: is it also ours?
Do we see a need and ignore it?
Do we see a problem and step over it?
Do we see heartbreak and desperation, and then do nothing to alleviate it?
Do we fail to see in our suffering brothers and sisters the face of Christ?
Whenever we pray the confitior at Mass, the "I Confess," we ask mercy for "what I have done and what I have failed to do."
This gospel indicts us.
What have we failed to do?
The Fowlers were overwhelmed at the response to their reception two weeks ago. They're dubbed it the "First Annual Fowler Family Celebration of Love," and they'd like to turn it into an annual event. They're talking with corporate sponsors to make it happen.
I think it's a great example of people who took lemons and made not only lemonade, but made something even sweeter.
They made the world remember those who are often forgotten.
Can we do any less?
The great message of the scripture this week is a cry against indifference—"Woe to the complacent!," as the first reading puts it.
Let this be a challenge to us to search our hearts, to shake off whatever complacency has taken over our lives.
Because the world is crowded with Lazaruses.
And we will be judged not only on what we do, but on what we have failed to do.