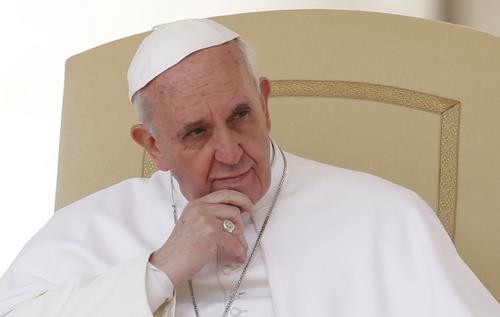 This was very much on the pope's mind this morning—along with some other challenging thoughts on unity, gossip and the "privatized" Church.
From CNS:
Backstabbing and gossip hurt people and harm God's desire for a united human family, Pope Francis said.

Unity is a gift from God, "but often we struggle to live it out," he said. "We are the ones who create lacerations."

The pope also asked people to pray for persecuted Christians in the world and to be genuinely concerned about their plight, just as one would be for a family member in distress.

At his weekly general audience in St. Peter's Square Sept. 25, Pope Francis continued his series of audience talks about the creed — looking at what Catholics believe about the church — and focused on the Catholic belief in "one, holy, catholic and apostolic church."

Catholics of every culture, language and part of the world are united in their common baptism and in sharing the church's one faith and sacramental life, the pope said.

This unity in faith, hope, the sacraments and ministry "are like columns that support and hold together the one great edifice of the church," he said. And it also helps Catholics feel like members of one family, "united no matter the distance" between them.

But the pope asked people to reflect upon whether they live out this unity or are they uninterested — preferring to be closed off from others, isolated within their own community, group of friends or nation.

"It's sad to see a 'privatized' church because of egoism and this lack of faith," he said.

It's especially sad when there are so many fellow Christians in the world who are suffering or being persecuted because of their faith, he said.

"Am I indifferent or is it like someone in the family is suffering?" he asked.

He asked everyone to be honest with themselves and respond in their hearts: "How many of you pray for Christians who are persecuted" and for those who are in difficulty for professing and defending the faith?

"It's important to look beyond one's own fence, to feel oneself as church, one family of God," he said.
The Anchoress has added this prayerful thought:
Please consider joining me in prayer for our brothers and sisters. If you're not sure what prayers, access some of the podcasts I've got over on the sidebar — the Rosary, the Litany to the Sacred Heart of Jesus; your prayers before sleep, theAngelus — offer your Liturgy of the Hours for them; Offer an hourly ejaculation: "God, come to their assistance, O Lord, make haste to help them…"

If you can fast, consider it, even for half a day. Christians are suffering and their history and place is being erased.