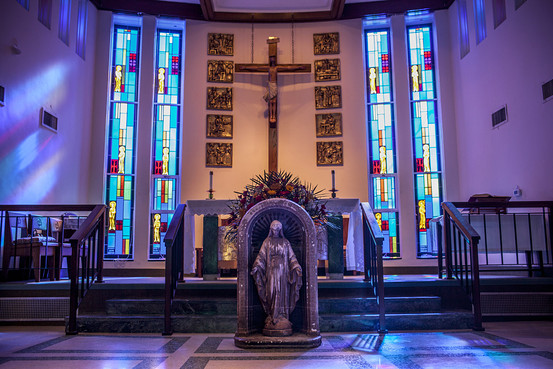 From the Wall Street Journal: 
On Tuesday night, St. Thomas More church will once again be the cornerstone of Breezy Point, the close-knit, mostly Irish community where hundreds of homes burned and flooded during superstorm Sandy.

To remember the one-year anniversary, the church will host a Mass with readings and a sermon. And at the center of the ceremony will be a state of the Virgin Mary that came to symbolize Sandy's devastation and rebirth.

It's fitting that the church is playing such a major role in many residents' commemoration of the anniversary. After the storm, it became a public shelter for victims–cots lined its floors for several days and meals were distributed outside. "The church was flooded, so everyone was up in the choir loft. People were sleeping in the choir loft," said Father Sean Suckiel.

Once the water receded, church members mopped the floors and held a Sunday service, where parishioners sang hymns. There was no electricity or heat, but 600 people attended. Many poured into the aisles and spilled outside into the piazza, Mr. Suckiel said.

About two weeks later, Regina Bodnar came to the church, carrying her three-foot statue of the Virgin Mary that came to signify the community's strength. Though hundreds of homes burned, the statue, located at the corner of Gotham Walk and Oceanside Avenue, somehow survived unscathed.