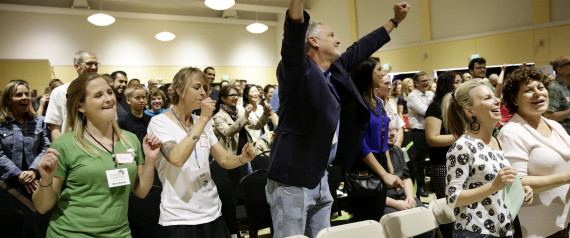 Perhaps the Elephant & Castle pub here was a fitting locale for a visiting Brit to meet some mates.

But other stereotypes were left at the bar as about 100 people trod down a flight of stairs — pints of beer and wine glasses in hand — and into the pub's basement to attend Sunday Assembly, a gathering of nonbelievers that both supporters and detractors have dubbed "atheist church."

"Hellllllooooooooo San Francisco," trilled Sanderson Jones, the blond, bearded British comedian everyone had come to meet on a recent Tuesday night. "If there is any city in the whole of the U.S. that should have a Sunday Assembly, it is San Francisco!"

Jones and his fellow British comedian Pippa Evans founded Sunday Assembly in London in January. Initial gatherings were standing room only, and branches were soon established in other British cities. Its use of group singing, lectures, and a goal to establish a sense of community have drawn many comparisons to traditional church.

But in San Francisco, a city long known for embracing nontraditional beliefs and lifestyles, Jones told the crowd the comparisons stop there.

"We get called the 'atheist church,' but we are really all the best bits of church but with no religion," he said, darting his lanky form up and down the aisle, arms flapping like some excitable exotic bird. "Our vision is to help people live the best life possible."…

…Part karaoke, part aerobics class, part comedy show, Sunday Assembly recently wrapped up a nine-city American leg of a fundraising tour but also left a long tail of backlash, as thousands of nonbelievers took to social media and the Internet to express their disdain:

* "Go to the @SundayAssembly website and what's the first thing you notice?" tweeted someone calling himself AtheistChris17. "'DONATE.' Like any good church getting money is their goal."
* "'Atheist churches' like Sunday Assembly do atheism no favors," tweeted Michael Luciano, who writes a blog called PolicyMic, where he further skewered Sunday Assembly as "fatuous."
* "Being an atheist and celebrating life without superstition everyday of the week is far more empowering than the wishy washy Sunday Assembly," wrote blogger and secular humanist Doug Berger.

And, like the many churches that detractors say Sunday Assembly tries to mimic, there's already been a schism of sorts.