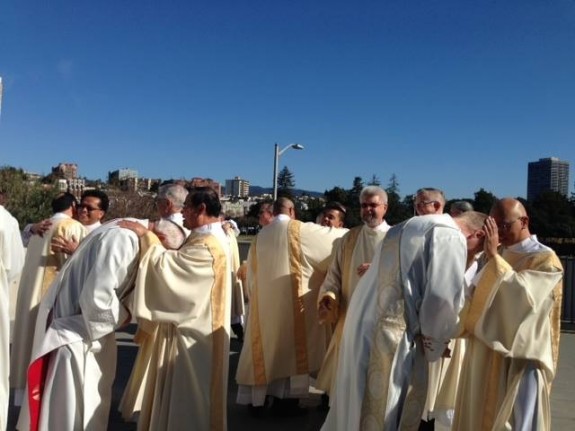 A California reader writes:
Fifteen new Deacons were ordained for the Diocese of Oakland on Saturday, November 16th, in the Cathedral of Christ the Light. Bishop Michael Barber SJ, ordained fourteen married man and one single man to the Permanent Diaconate.
You can read about the men in The Catholic Voice:
It is a ministry more than five years in the making for the 15, who range in age from 41 to 68. There are 14 married men, and one single man. Some are fathers and grandfathers; they are from 13 parishes.

After ordination, Bishop Michael C. Barber, SJ, will assign each to a parish and to a Charity and Justice ministry.

The formation of a permanent deacon is an almost-five-year process. It is the bishop who calls for a new class of deacons. After that, information meetings are set up in different parishes in different parts of the dioceses, usually after Sunday Masses. These meetings are advanced in parish bulletins and in The Catholic Voice, to invite men who might be interested in learning about becoming a permanent deacon.

There's a lot of ground to cover. By the end of the session, the men will have a good idea of what to expect in the discernment process.

"They know it's going to be a strenuous program," said Father George Alengadan, director of priests' ongoing formation and deacon formation for the Diocese of Oakland. There will be homework, intellectual work and pastoral work, Father Alendgadan said. Classes are held every other Saturday. There are also canonical considerations: Candidates must be properly married in the Catholic Church.

Father Alengagdan, who also serves as pastor of St. Joseph Basilica in Alameda, has directed deacon formation for the past seven years. The Class of 2013 is the first he has seen all the way through the process.

The information sessions are followed by six months of discernment workshops. In these workshops, the vocation of a deacon is explored. About 80 men enter this part of the process. Medical and psychiatric evaluations are completed.

"We are hoping that they can put in at least 10 years of service," said Father Alengadan.
Congratulations, brothers! Ad multos annos!