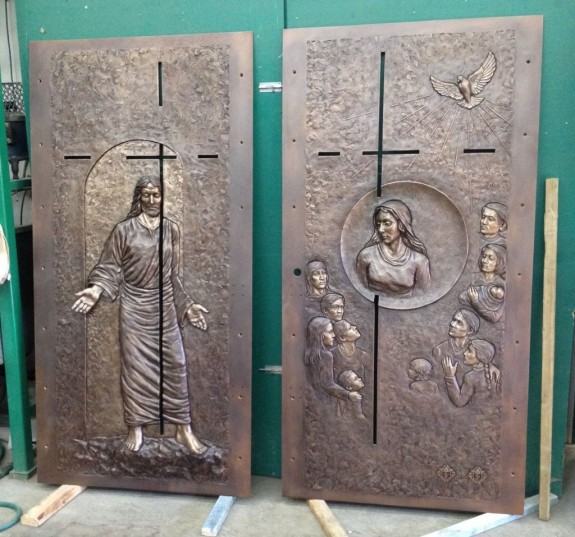 Who knew?
A fascinating glimpse at this rare entryway, from CNS:
From The Star:
The door — two-sided bronze, with Christ on one side, Mary on the other — will be opened for one year and then locked until the next time the Holy Doors in Rome are opened, in 2025.

The door is on the left side of the cathedral. Workers broke open a wall to create the door, which now leads from a garden into what was a small chapel. The chapel gives way to the cathedral proper.

Even if religion is not a part of everyday life for most Quebecers, "the background of this modern, secular society is, of course, Catholic," says Susan Sebert, a former adult educator and now tour guide in Quebec City.

Quebec once had one of the highest birth rates in the world, and now it ranks among the lowest. "It was called 'revenge of the cradle,' " she says. "Priests told women they must have children to keep the language and culture alive."

Families with three children were not considered large enough, and women were encouraged to have many more, Sebert says. Many left the church.

"People are not going to church now," she says, "but it is very present in their psyche."

Even as a secular person, she will be at Sunday evening's opening of the doors, because she sees it in the context of Quebec's past. "I'm going not as a practising Catholic, but because it is an important historic event."

Notre-Dame's website emphasizes that the celebrations are open to everyone. In promotional material the jubilee is being billed as a celebration of "faith, family, patrimony and culture."

"They really are being inclusive," says Sebert.