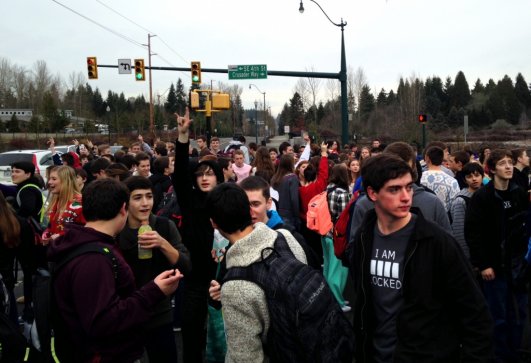 Students from Eastside Catholic High School and other Catholic secondary schools  delivered a message outside the Archdiocese of Seattle on Saturday afternoon:  We are not going away, and we are taking our protest to a new level.

"We care too much about Mr. Zmuda to let this go," said Ian Edwards, a senior at Eastside Catholic, after speaking at the second demonstration in as many weeks outside the old chancery of the archdiocese.

With social media at their disposal, the students are thinking big. They plan to organize, nationwide, a  "Z-Day" on Jan. 31 to protest the forced resignation of Eastside vice principal Mark Zmuda after his same-sex marriage last summer.

"We encourage students, at Catholic schools or otherwise, as well as any other impassioned individuals, to proudly wear the color orange on that day. In so doing, we will be showing solidarity with Mark Zmuda, as well as expressing our hopes for an enlightened perspective on issues of sexuality in the Catholic Church," said a statement read by Edwards and other students.

The Archdiocese of Seattle has greeted the students' protests with icy silence.  "We've tried to reach out, but not heard back," said Julia Burns, a senior at Eastside Catholic.  They have received no response to requests for a meeting with Archbishop J. Peter Sartain.  They have received no outreach from their own administrators or the Catholic school system.

The highly regarded prep school in Sammamish says in the careers section of its website:  "Eastside Catholic does not discriminate on a basis of an employee or applicant's race, religion, creed, color, sex, age, national origin, disability, marital status, sexual orientation or any other status or condition protected by federal, state and local law."

Still, teachers at the school pledge that they will "live a lifestyle compatible with Catholic moral values, exercise professional conduct consistent with Catholic teachings, and promote the Catholic identity of the school through personal example."
UPDATE: The school is planning disciplinary action against any students who protest today:
Letters sent to Eastside Catholic High School parents and faculty indicate if there are any campus protests over former Vice Principal Mark Zmuda when school resumes Monday, those students will be sent home.

Sunday, administrators met with faculty to discuss the issue, according to a school spokesperson.  Monday, parents will have the same opporunity.

The controversy stems from a decision on December 20 to remove Zmuda from his position.  Over the summer, he married another man, which is against Catholic teachings and therefore, against the Sammammish Catholic school.

No faculty would comment on the evening meeting Sunday, but spokesperson Mike Patterson did say, "we're not changing our position," adding the school was expressing its own First Amendment rights.

The letter to faculty concluded, "may we leave behind any obstacles that divide or disintegrate while we seek the pure, the new — the faith-filled EC community".

Parents were informed of a new "Effecting Change" workshop, for students to voice concerns on the Catholic Church and its future.  At the same time, they were told if their child protests Zmuda's departure, they will be sent home.