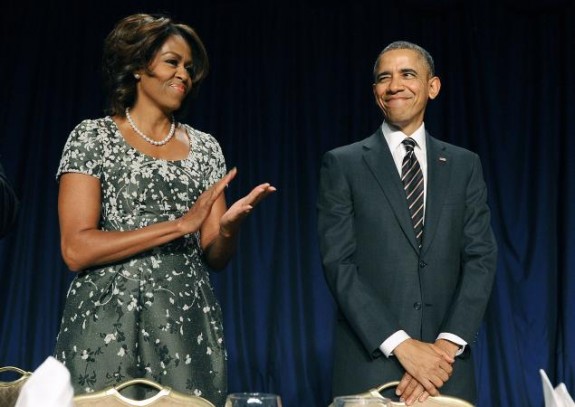 President Obama and the First Lady joined thousands from the Washington elite early Thursday for the National Prayer Breakfast, an event that hit a decidedly more spiritual tone in 2014 than the highly politicized spirit at the 2013 occasion.

The first couple was joined by Vice President Joe Biden for the annual affair, with USAID Administrator Rajiv Shah slated as the keynote speaker.

During Obama's message, the President highlighted the peril of those enduring religious persecution worldwide and praised America's commitment to freedom of worship, saying "religion strengthens America."

Obama's focus on free exercise comes as his administration has been criticized for trumping the right of conscience for religious organizations who object to providing contraception, as mandated by the Affordable Care Act.

Calling the promotion of religious freedom a "key objective" in American foreign policy, he specifically mentioned the lack of freedom for Christians and Tibetan Buddhists in China, and other global spots known to suppress religious practices of the minorities. He also urged North Korea to release Christian missionary Kenneth Bae and for Iran to release pastor Saeed Abedini. Abedini's wife has expressed her frustration at the State Department's perceived hesitancy in addressing her husband's imprisonment.
UPDATE: In the full text of the remarks, the President references Pope Francis. But he also mentions people facing persecution for "who they love":
I've felt the love that faith can instill in our lives during my visits to the Holy Land and Jerusalem — sacred to Jews and Christians and Muslims. I've felt it in houses of worship — whether paying my respects at the tomb of Archbishop Romero in San Salvador, or visiting a synagogue on the eve of Rosh Hashanah, the Blue Mosque in Istanbul or a Buddhist temple in Bangkok. And I've felt the compassion of so many faith leaders around the world, and I am especially looking forward to returning to the Vatican next month to meet His Holiness, Pope Francis, whose message about caring for the "least of these" is one that I hope all of us heed. Like Matthew, he has answered the call of Jesus, who said "follow me," and he inspires us with his words and deeds, his humility, his mercy and his missionary impulse to serve the cause of social justice.

Yet even as our faith sustains us, it's also clear that around the world freedom of religion is under threat. And that is what I want to reflect on this morning. We see governments engaging in discrimination and violence against the faithful. We sometimes see religion twisted in an attempt to justify hatred and persecution against other people just because of who they are, or how they pray or who they love. Old tensions are stoked, fueling conflicts along religious lines, as we've seen in the Central African Republic recently, even though to harm anyone in the name of faith is to diminish our own relationship with God. Extremists succumb to an ignorant nihilism that shows they don't understand the faiths they claim to profess — for the killing of the innocent is never fulfilling God's will; in fact, it's the ultimate betrayal of God's will.
"The killing of the innocent is never fulfilling God's will…"  Does he even hear himself?