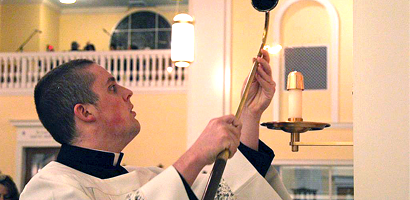 Sad news from Charlotte this weekend:
Michael Gerard Kitson, 20, of Waxhaw, passed away on Sunday, April 27, 2014. He was a seminarian for the Diocese of Charlotte, studying for the priesthood at the Pontifical College Josephinum in Columbus, Ohio.

Visitation will be held from 5 to 9 p.m. on Tuesday, April 29, at St. Ann Church, 3635 Park Road in Charlotte, and also on Wednesday morning from 9 to 10:15 a.m.

His Mass of Christian Burial will be celebrated 10:30 a.m. Wednesday, April 30, 2014, at St. Ann Church. Interment will follow at Belmont Abbey Cemetery.

Kitson was born Oct. 12, 1993, in Newark, Del., to Michael John Kitson and Nancy Lorraine Kitson. He was a graduate of Marvin Ridge High School, in the class of 2012, and he was a member of St. Ann Parish.

He loved playing the tuba, the piano, and all sports. Though a fierce competitor, he had a great sense of humor, a gentle disposition, and a charitable heart. He was most at home serving Holy Mass.

He is survived by his parents, Michael J. Kitson and Nancy L. Kitson of Waxhaw; sisters, Kelly A. Kitson of Lexington and Courtney L. Kitson of Waxhaw; and several uncles, aunts and cousins. He will be greatly missed by his family, his brother seminarians and the parishioners of St. Ann Church.

In lieu of flowers, memorial donations may be made to the Diocese of Charlotte, Office of Vocations, 1123 S. Church St., Charlotte, N.C. 28203.

Harry & Bryant Funeral Home of Charlotte is in charge of the arrangements.
Please pray for him, his family, his classmates and all who loved him.
Eternal rest grant unto him, O Lord, and let perpetual light shine upon him…