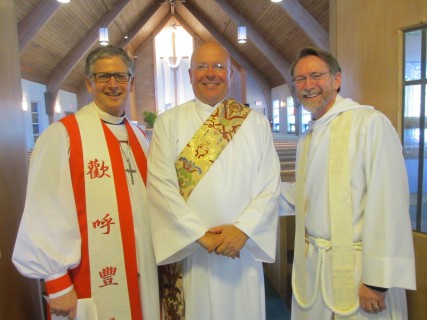 A little over three years ago, I was blogging at Beliefnet when Elizabeth Scalia called to invite me to join her merry band at Patheos.
My first reaction was "Pathy-what?"  At the time, the Catholic portal (it wasn't a full-fledged channel yet) had only a handful of bloggers; I think it was Elizabeth, Frank Weathers and someone who emptied the trash every other day.
I decided to seek some counsel from the only guy from Beliefnet who had made a similar leap of faith: Scot McKnight. He'd brought his blog to Patheos a few months earlier. I dropped him a line to see what he thought. He told me he was a happy camper and encouraged me to come on over.
I did and the rest is history. Well, now I'm delighted to report that Patheos has two deacons on board.
Last weekend, Dr. Scot McKnight was ordained an Anglican deacon.
The Rev. Dr. Scot McKnight was ordained to the Sacred Order of Deacons by Bishop Todd Hunter in a morning worship service at Church of the Redeemer in Highland Park, IL, on Saturday, April 26, 2014. Given his extensive experience, Dr. McKnight's role in the Diocese of Churches for the Sake of Others (C4SO) will include assisting Bishop Hunter and other C4SO leaders with providing theological mentoring of ordination candidates, theological training for C4SO clergy, and reflecting upon contemporary theological issues. While canonically resident in C4SO, Dr. McKnight will be licensed to function as a Deacon at Church of the Redeemer under the oversight of Bishop Ken Ross, PEARUSA, and Canon Jay Greener, Rector of Redeemer.

"Scot brings significant experience and scholarship to our Diocese and will enrich our theological team," Bishop Hunter says. "Anglicanism generally, and our Diocese specifically, is gaining a strong leader. I am thankful for the flexibility within the ACNA to build partnerships between Dioceses and jurisdictions for the sake of Kingdom mission."

In his ordination sermon, Bishop Hunter highlighted the dichotomy of belief and society's doubt. "I have a passion that the chain of the knowledge of Jesus carries on in America to future generations…I am proud of Scot's body of work and to have him now as a colleague."

Dr. McKnight describes his call to Anglicanism as a journey and points to the rich Anglican faith and practice he has embraced. "The Anglican Church dwells in the continuity of the great tradition of the church while also sharing the importance of the Protestant Reformation," he said, "and my own study of the New Testament has led me over time to the centrality of an ecclesiology that partakes in the catholic communion of the Christian faith that also knows it is bound first of all to the Lord through the revelation of Scripture."

"The church must be evangelistic, the church must plant churches that continue to grow by multiplying churches," he continues. "The vision of Bishop Todd Hunter for evangelism is one that I not only share but one that forms the heart of the New Testament vision: to know Jesus and to make him known for God's glory throughout the whole world."

Dr. McKnight is a recognized authority on the New Testament, early Christianity, and the historical Jesus. He is the author or editor of forty books and is Professor of New Testament at Northern Seminary in Lombard, IL. In addition, he is a sought-after speaker for churches, conferences, colleges, and seminaries, both nationally and internationally. He received his Ph.D. at the University of Nottingham in 1986 and blogs at Jesus Creed.
Congratulations, Doctor Deacon!  Ad multos annos!