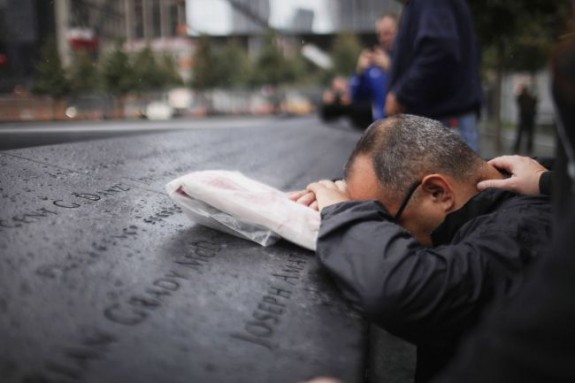 This is Memorial Day weekend, a time when a lot of us will be firing up the barbecue, heading to the beach, or catching the X-Men movie. It's the unofficial start of summer. The roads will be crowded, the boardwalks will be busy. Kids are counting down to the last day of school. Parents are counting down to the first day of summer camp.
We often overlook, though, the roots of this long weekend. Like so many other things, it's been commercialized, so it's all about the newest movie and the biggest sales and getting a great rate for a rental on the Jersey Shore.  But it's not about that. Memorial Day is about remembering—memorializing those who gave their lives in time of war.
And on a larger level, in the big picture, it's a reminder of something important in our character: we are people who crave remembrance.  We need to honor those we've lost. We don't want them forgotten.  We need them to live on in memory.
We saw a vivid example of that this week, with the opening of the 9/11 Memorial and Museum downtown.  Any of us who were in New York then already know what that day was like. We carry that experience in our hearts.  But to read about the museum, from newspaper accounts of its opening, it sounds like something even more profound. The museum takes our memories and recollections and makes them tangible. Ordinary objects take on extraordinary meaning. A scorched telephone. A crumpled Metro card. Clothing covered in ash.  Steel beams. A battered fire truck. A pair of eyeglasses left behind.
Reading the descriptions in the papers, it all comes rushing back. But a part of us needs that. Whether it's memorializing 9/11, or the Holocaust, or Vietnam, there are parts of our history that we need somehow to preserve, so they don't slip away from us.
We are people who crave remembrance.
In fact, our theology is constructed around it—the source and summit of our faith, what we are celebrating here in this church this morning, is founded on six simple words: "Do this in memory of me."
We gather here not simply to pray or to break bread.  We are here to remember what was given to us—the one who gave it, and who gave for us his life.
We don't want to forget.
And I think each of us, in some very human way, also doesn't want to be forgotten.  We need to know we count.
Which is why this Sunday's gospel carries so much meaning and so much hope.
This passage from John's gospel is part of Jesus' final discourse to his followers – his parting message at the Last Supper.  In our calendar right now, it's the last we'll hear from Jesus before his Ascension.  It sets the stage for Pentecost, the coming of the Holy Spirit, just two weeks from now.
But in a very particular way, it reassures us. It uplifts us. And it tells us something we need to know.
The God who asks us to remember…tells us that he remembers, too. 
We will not be forgotten.
"I will not leave you orphans," Jesus says. "I will come to you."
Not only that, but someone else is coming.
"I will ask the Father, and he will give you another Advocate to be with you always, the Spirit of truth…  he remains with you, and will be in you. I will not leave you orphans."
How often we—who need to remember—forget that.
How often we think God has abandoned us. That he isn't listening. How often we feel forgotten.
But, if we need a gentle reminder, here it is.
"I live," Jesus says, "and you will live."
And—as St. John reminds us so often in his gospel—it all comes down to one beautiful, eternal, uncompromising certainty.
  Love.
"Whoever loves me will be loved by my Father, and I will love him and reveal myself to him."
In this short gospel lies a fundamental truth. No matter what burdens we bear, what sorrows we carry; no matter what hurt we feel or what loneliness we face…we are not forgotten. We are not alone.
And: we are loved. 
The Holy Spirit, the Advocate dwelling within us, reminds us of that love.  So does the Eucharist we share here. The God who became flesh for us, who suffered with us, who bled for us, lives on with us, even here and now, in the breaking of the bread.
When we do this in remembrance of him, let us remember that.
And if we didn't realize it before, we should realize it now: every Mass is a remembrance, a commemoration of the greatest sacrifice ever offered.
As Catholic Christians, we don't need a special three-day weekend with holiday sales and burgers on the grill to remember.
We do it all the time.
Because every Sunday, really, is Memorial Day.