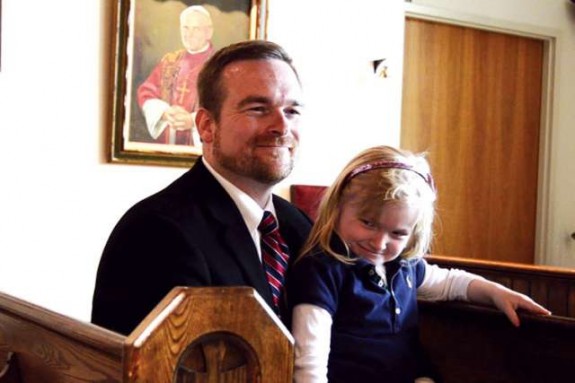 Photo: by Evan Boudreau/Catholic Register
From The Catholic Register in Canada comes this story of one man's efforts to save the sacred: 
 When Mark Siolek read an article about a bar owner purchasing confessionals from the Archdiocese of Buffalo to be used in bathrooms, his stomach turned.
"They were having like a church yard sale (and) one fellow had bought confessionals and they took the confessionals and he put them in his bar as urinal stalls," said Siolek. "That really didn't sit well with me so any time parishes were closing I would put out a feeler to see if there was anything that we could do."

That led Siolek, who worked at Toronto's Bishop Allen Academy at the time, to establish "a church furniture bank," where he would salvage, restore and relocate items from closing parishes into Toronto Catholic school chapels.

Among the items Siolek has saved from a potentially less than holy home is a large wooden baptismal font from a church that was being converted into a house. Siolek said the homeowner's intention was to use the font as an ice bucket.

Other horror stories include altars being turned into fireplace mantles, pews becoming couches and presider chairs residing at the head of dining room tables.

"Through the network that we have in our school board we've been able to move stuff around," said Siolek, adding that about one-third of Toronto's Catholic schools have salvaged items in their chapels now. "If we couldn't use them in our schools then we redirected them to other elementary and secondary schools who could give them the proper veneration and respect they deserve. The presence of (these pieces) just gives a chapel an atmosphere of respect, it gives a sense of history of the Church and, to quote Ignatius of Loyola, it gets the sacrament imagination and spiritual imagination going."

Five years ago when Siolek moved from Bishop Allen to his current school, Msgr. Percy Johnson Catholic High School, as school chaplain, he kept up the tradition of salvaging and set to redecorating his new chapel.