I posted on this extraordinary event in San Francisco over the weekend: three generations of clergy in one family.  Below is the picture to prove it.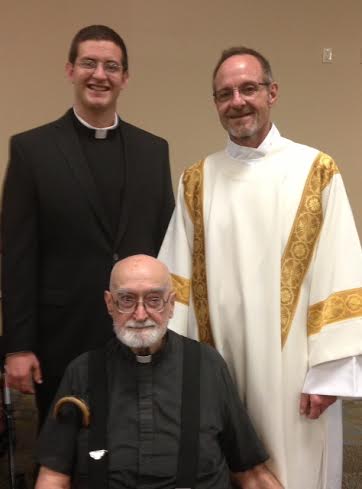 That's Fr Joseph Previtali; his father (just-ordained) Deacon David Previtali; and the deacon's father-in-law Fr Frank Filice.
Check your archives, folks, because as far as anyone knows, it's the first time there have been three living generations of Catholic clergy in one family—let alone, at one Mass.
The two priests—a grandson and his grandfather—concelebrated the deacon's Mass of Thanksgiving on Sunday.
And, in fact, there was a one more generation involved, as David wrote in an e-mail this morning:
A 4th generation family member was also in the sanctuary as my grandson Vinny served his first Mass (he is 7) so he was there along with me, his grandfather, as well as his priest-uncle and his priest-great-grandfather. Though I proclaimed the wrong gospel (Year B instead of Year A!) my first homily went well and son said it was a home run.
Congratulations, Deacon. Ad multos annos!