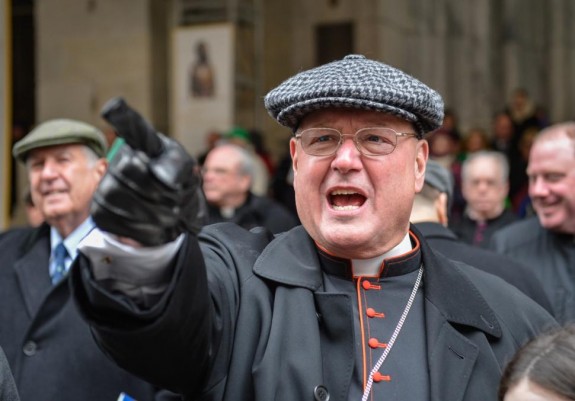 From his column in New York Catholic:
I haven't been in this much hot water since I made the comment, right after I arrived as your archbishop five-and-a-half years ago, that Stan Musial—my boyhood hero of my hometown St. Louis Cardinals—was a much better ballplayer than Joe DiMaggio!

Now I'm getting as much fiery mail and public criticism over my decision to accept the honor of Grand Marshal of this year's St. Patrick's Day Parade. According to the critics, I should have refused, due to the Parade Committee's decision to allow a group of self-identified Gays of Irish ancestry to march in the parade with their own banner.

As with Stan Musial, I'll stand by my decision. However, enough of you have courteously expressed some confusion and dismay, that, as your pastor, I owe you an explanation. Let me try.

For one, the decision to change the parade protocol was not mine. The archbishops of New York have never been "in charge" of the parade. Although my predecessors and I have always enjoyed friendly cooperation with the Parade Committee—and still do—and deeply appreciate the identity of the Parade as a celebration purely of Irish heritage, intimately linked to the Catholic Faith, we've never had a say in Parade policy or the choice of the Grand Marshal. Nor did we expect or want one!

So, in the current "brawl," (they have been hardly rare in the Parade's grand 253-year history!), I did not make the decision! You will recall that I in the past often expressed support for the former policy—that the only banners and identification to be carried was that the group was Irish—and that I found it logical and fair. To those who charged that the policy was "anti-Gay," I often observed that no one person, Gay or not, was excluded from the parade. This was simply a reasonable policy about banners and public identification, not about the sexual inclinations of participants.

I did not oppose the former policy; nor did I push, condone, or oppose the new one. While the Parade committee was considerate in advising me of the change, they did not ask my approval, nor did they need to.

However, I admit that, for most folks, this is not the reason they are upset with me, and this brings us to point two. Many of you, while acknowledging that the decision to change policy was not mine, feel strongly that I should protest it, publicly condemn it, no longer support the Parade, and refuse the invitation to serve as Grand Marshal.

While a handful have been less than charitable in their reactions, I must admit that many of you have rather thoughtful reasons for criticizing the committee's decision: you observe that the former policy was fair; you worry that this is but another example of a capitulation to an "aggressive Gay agenda," which still will not appease their demands; and you wonder if this could make people think the Church no longer has a clear teaching on the nature of human sexuality.

Thank you for letting me know of such concerns. I share some of them.

However, the most important question I had to ask myself was this: does the new policy violate Catholic faith or morals? If it does, then the Committee has compromised the integrity of the Parade, and I must object and refuse to participate or support it.

From my review, it does not. Catholic teaching is clear: "being Gay" is not a sin, nor contrary to God's revealed morals. Homosexual actions are—as are any sexual relations outside of the lifelong, faithful, loving, lifegiving bond of a man and woman in marriage—a moral teaching grounded in the Bible, reflected in nature, and faithfully taught by the Church.

So, while actions are immoral, identity is not! In fact, as the Catechism of the Catholic Church reminds us, people with same-sex attraction are God's children, deserving dignity and respect, never to be treated with discrimination or injustice.