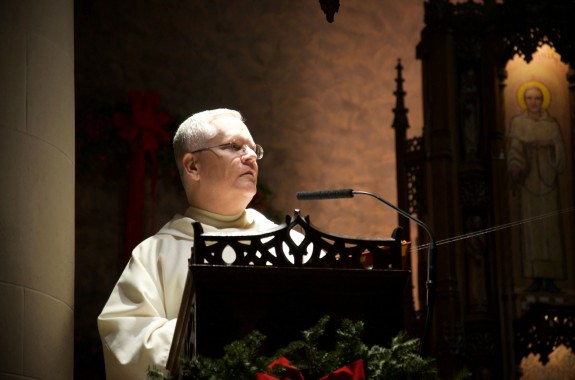 Photo: Rosalind Chan
Consider this your warm-up for the Exsultet.
A lot of places don't do this chant anymore; a visiting priest who heard me do it last January was amazed. "I've never heard that before, anywhere," he said. But my parish also does arcane bits of liturgy like the Blessing of Chalk and marking the church portal with the initials of the wise men. (That ritual is getting harder to repeat every year — nobody uses chalk anymore! It's hard to find.)
A little background for you:
While a day like Christmas is fixed in our minds and on the calendars on December 25th, many of the important feasts of the Church year move, based upon the date that Easter is set. Easter changes each year moving to the Sunday after the "Paschal Full Moon," and can fall between March 22 and April 25.
In ancient times before calendars were common, most people did not know the dates for the upcoming Liturgical year. On Epiphany Sunday, the upcoming dates were "proclaimed". After the singing of the Gospel, a Deacon or cantor, in keeping with an ancient practice of Holy Church, announces from the ambo the moveable feasts of the current year according to * this formula:
Know, dear brethren, (brothers and sisters,)
that, as we have rejoiced at
the Nativity of our Lord Jesus Christ,
so by leave of God's mercy we announce to you also
the joy of his Resurrection, who is our Savior.

On the 18th day of February will fall Ash Wednesday,
and the beginning of the fast of the most sacred Lenten season.

On the 5th day of April you will celebrate with Joy Easter Day,
the Paschal feast of our Lord Jesus Christ.

On the 14th day of May will be the Ascension of our Lord Jesus Christ.

On the 24th day of May the feast of Pentecost.

On the 7th day of June, the feast of
the Most Holy Body and Blood of Christ.

On the 29th day of November
the First Sunday of Advent of our Lord Jesus Christ,
to whom is honor and glory for ever and ever.

Amen
Much more helpful (at least to me) is this recording. Download it to your iPod.
You have four days. Practice!