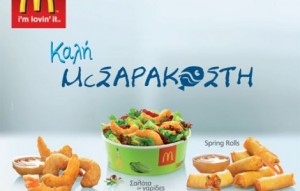 An interesting insight from the pages of The Economist: 
Drop into the McDonald's branch in Syntagma, the central square of Athens, at this time of year and you will find that "fast food" has a double meaning. Along with the familiar burgers and fries, customers have the option of meals that conform with the dietary rules observed by Orthodox Christians during Lent: essentially vegan, though shellfish are allowed. Spring rolls and shrimp burgers loom large. Greek-owned chains tempt the pious with spinach in filo pastry and (a real ascetic feat) potato pies. In Moscow, by contrast, gourmet restaurants offer Lenten menus which promise to be as succulent, and are certainly as expensive as the carnivorous alternative.

As a counterpoint to all that a left-wing, faith-based campaign group in the United States, Interfaith Worker Justice, is urging followers to observe Lent by "fasting from fast food", in other words to protest against low wages by abstaining entirely from chains offering instant nourishment.

Of the various religious and cultural questions that businesses and other employers have to cope with, whether in managing their own staff or tailoring their products and services, dietary taboos based on faith, especially seasonal taboos, are among the commonest and most sensitive. For a private-sector provider of food, the market serves as an important guide; if there is demand for food of a certain kind, and nobody else is offended, it makes sense to adjust the product range accordingly.
Image of McDonald's ad from Aristotle, Guide in Greece