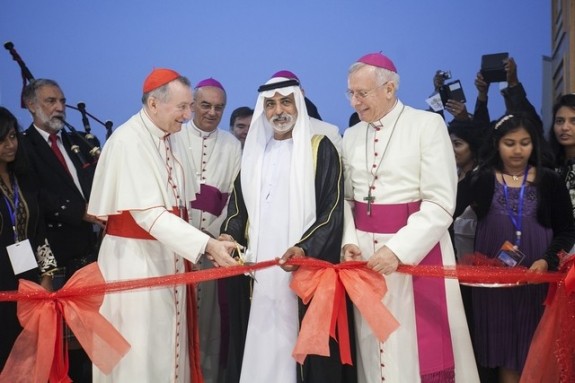 You may remember this item from a few days back. Now, it's official: 
 A second catholic church in Abu Dhabi was inaugurated on Thursday evening in the presence of Shaikh Nahyan bin Mubarak Al Nahyan, the UAE Minister for Culture, Youth and Community Development, Cardinal Pietro Parolin, the Vatican's secretary of state and Bishop Paul Hinder, the apostolic vicar of Southern Arabia.

The new St. Paul church of Roman Catholic faith is a 4,560 square metres complex built on a land given by Abu Dhabi Municipality in Musaffah, the industrial area of Abu Dhabi.

In the UAE there are almost 900,000 Catholics and up to 20,000 of them are attending weekly church services in Abu Dhabi, which, until now, was only possible in the capital's only Catholic church, the St. Joseph's Cathedral, located in the city centre.

With most labour camps now being in Musaffah and with more people living in the adjacent areas of Mohammed bin Zayed and Khalifa cities, the new St. Paul church is believed to be a blessing for Catholics on the outskirts of Abu Dhabi.

'Our leadership knows its true wealth and accepts the obligation to respect and understand the many religious beliefs of the people living in this country. I believe that each of you can provide evidence that the leaders of the UAE are fulfilling that obligation,' said Shaikh Nahyan, during the inauguration ceremony.

St Paul church falls under the apostolic vicariate of Southern Arabia, a territorial jurisdiction of the Catholic Church in the UAE, Oman and Yemen, with the seat of the bishop in Abu Dhabi.

'The new church is again a shining example of the generosity of the rulers of the UAE. We thank the rulers for providing an attractive environment, where Christians feel accepted and are able to live their own identity and to practice their religious beliefs,' added Bishop Hinder.
Read more and check out additional pictures here.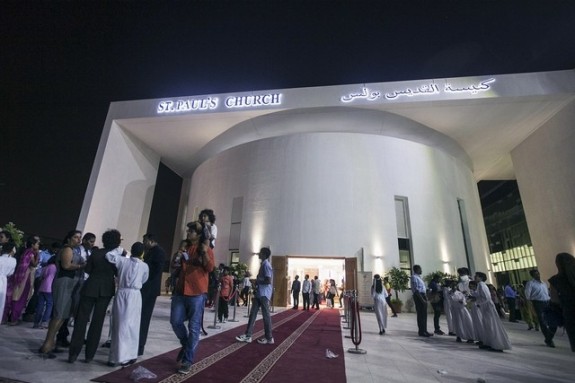 The National adds this: 
The opening of St Paul's Church, in Mussaffah, highlights the religious tolerance of the country's leaders, said Sheikh Nahyan bin Mubarak, the Minister of Culture, Youth and Community Development, who attended the opening.

"The clearest way to appreciate the paramount values valued by Emiratis is to examine the well-documented actions of a single person whom all Emiratis admire.

"That person is the late Sheikh Zayed bin Sultan Al Nahyan, the leader who united the Arab Emirates," he told the audience.

…The President, Sheikh Khalifa, said that 'the United Arab Emirates has relied, and will continue to rely, on the rich and diverse contributions of its true wealth – its people – to guarantee its prosperity'. That is you.

"Our leadership knows its true wealth and accepts the obligation to respect and understand the many religious beliefs of the people living in this country. I believe that each of you can provide evidence that the leaders of the UAE are fulfilling that obligation."
Photos by Mona Al Marzooqi / The National