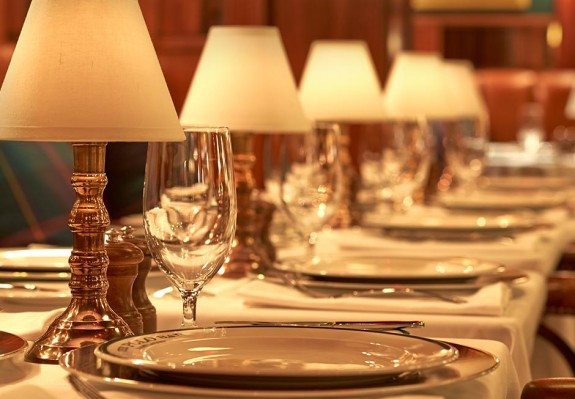 On Friday, the New York Times offered its readers some interesting advice: it published ideas from experts on how to get a table at the best and most exclusive restaurants in New York City. The ideas ranged from calling in favors, to asking friends of friends to make a call, to even getting a personal shopper at Bergdorf's to pull some strings.
The newspaper reported there is also an underground network of hotel employees—concierges—whose influence can often be bought for a few hundred dollars.
You might also promise the restaurant manager that you will buy a thousand dollar bottle of wine with the meal and leave a huge tip.
I can't guarantee that any of this will work at Portofino's or Cheeburger, Cheeburger. But evidently, it does work in Manhattan.
All this, of course, plays to our obsession with being hip, being hot, being where we need to be when we need to be there. And it says something about our culture right now that there are so many well-heeled New Yorkers eager to put this into practice.
But does any of this matter to God? I can't think of many saints who worried about being spotted at the hottest bistro on Saturday night before heading to Mass on Sunday morning.
By the way, if there are some of you here this morning who spent several thousand dollars on a dinner at the Polo Bar last night…I'm sure Bishop Sanchez or Father Passenant would be happy to chat with you after Mass.
Which brings us to the meal that is central to today's gospel—the feeding of the five thousand on the shores of the Sea of Galilee.
I don't imagine any one of those thousands of people gathered on that hillside, sitting on the ground and looking expectantly at Jesus, that they realized they were about to take part in one of the most famous meals in history.
They didn't have to pull strings. They didn't call in favors. They didn't even need to leave a big tip.
All they needed was to be present—to be present before God, before a moment of possibility and grace.
And the rest, literally, is history.
It is, in fact, a miracle.
We can read so much into this episode. It's lessons are many: It is a sign of Christ's power; it's a testament to God's extravagant love and generosity; and with its taking place before Passover and the words and gestures Jesus uses, it is also a powerful foreshadowing of the Eucharist.
But it is, first and foremost, a miracle.
In the hands of God, something mundane becomes miraculous: leftovers from a little boy are transformed into a feast.
And as a result, no one is left to go hungry.
We all know the feeling. At one time or another, every one of us knows hunger. And not just for food. We yearn for love, or mercy, or forgiveness. Maybe we hunger for meaning and purpose. We ache for dignity and respect.
This moment in the gospel assures us that Christ will not let anyone starve. He will give us all that we need. As the psalm puts it so beautifully:
The hand of the Lord feeds us; he answers all our needs. 
If you need proof, look no further than this sacred meal we are about to share from this altar—the Body of Christ that has been passed on to us and that lives with us and within us. The One who gave bread to thousands who were hungry all those years ago today offers the gift of finest wheat to all who come to him.
We stand before him, our hands outstretched, and into our trembling palms is placed God.
To those who yearn for hope, to those who hunger for grace or a love they can't even begin to describe…it is all here.
This is a miracle.
But think of how this episode in the gospel begins. The great work Christ undertakes here begins with something almost discarded: five loaves, two fish, brought for some unknown reason by a little boy. For most, those things would be an afterthought. No one would likely pay attention to the food. Certainly, no one would give the time of day to a little boy. Children, you'll recall, had very little status in first century Palestine.
But for Jesus, all of these things are the ingredients of something wondrous.
Out of nearly nothing, Christ creates something — and it is literally something incredible.
From scraps and leftovers, he makes a miracle.
And not only that: when all is said and done, Jesus has the last remaining fragments collected, so that nothing goes to waste, not even the smallest particle.
Everything, in the hands of Jesus, matters.
Everyone, in the eyes of God, has purpose and possibility.
Nothing is thrown away.
We all matter.
Do we realize that?
The fact is: we all have the makings of a miracle.
What miracle will God make of our lives?
Tomorrow, we'll begin celebrating our annual novena to St. John Vianney. We will be praying for vocations to the priesthood. As we do, remember this extraordinary moment on a hillside in Galilee. Remember what God can do. Recall with wonder and with hope that every life has the makings of a miracle—perhaps, even the miracle of a vocation to serve God at the altar and to re-enact this profound feast again and again and again.
Christ fed five thousand on a hillside two thousand years ago. Think of those whom priests might feed today, here and now.
Pray that more men will hear the call, and be open to it.
And remember this, too: every great work of God begins with making ourselves present. It begins with showing up—with open hearts and open palms. Trust and believe: Whatever our hungers, whatever our needs, we will be fed.
You don't need to call in favors, or bribe a concierge, or leave an extravagant tip. Just be ready.
Be ready for God to do great things.
You never know what he will use to make a miracle.
Photo via The Polo Bar website