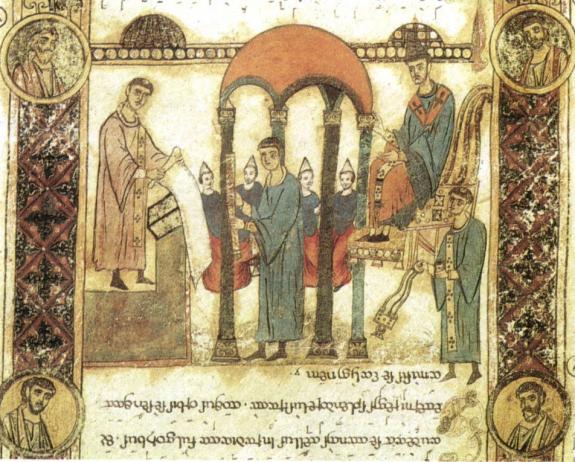 A grateful h/t and diaconal bow to James Agnew, who sent this my way, from Liturgical Arts Journal.
It explains how The Exsultet was once chanted from enormous scrolls, which could be unfurled from the ambo to illustrate what the deacon was describing in his chant:
The authorship of this great hymn in praise of the paschal candle is suggested by the Liber Pontificalis to possibly be the fifth century pope, Zosimus.

As a hymn, it forms one of the richest texts of the Roman Missal and one of its most celebrated features is what the Catholic Encyclopedia calls "the remarkable praise of the bee"; a text it comments that is "possibly a Vergilian reminiscence" — coming with reference to the great Roman poet, Publius Vergilius Maro, or who we more simply know today as Virgil, author of the Aeneid.

Exsultet rolls were long scrolls of parchment utilized exclusively in southern Italy (so far as we know) in the Middle Ages. These scrolls contained the texts and chants of the Exsultet accompanied by various decorative illuminations related to the contents of the same. But why a scroll you may ask? In liturgical practice this scroll would be unrolled by the deacon as he sang the Exsultet from it, allowing it to unroll over the ambo as he did so, thereby permitting the faithful to see the related iconography as he sang the liturgical text which corresponded to it.
From another source: 
Exsultet rolls were read aloud from an ambo, or elevated pulpit, which faced the congregation.  As the deacon chanted the words, he would allow each finished section to hang over the edge of the ambo so that the gathered people could see the accompanying pictures. This courtesy to the audience required, of course, that the images be painted upside-down on the roll.