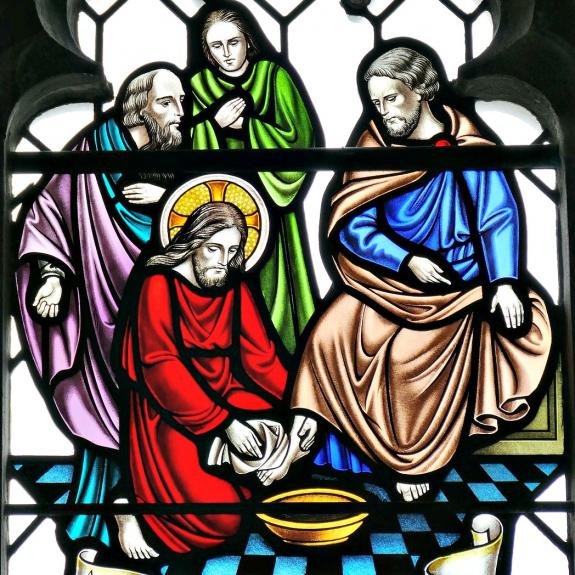 There are some events in history that prove to be pivot points. 
You look back on them and see how those moments changed the world.
Early in the musical "Hamilton," there is a scene when four key characters meet: Alexander Hamilton, Marquis de Lafayette, a slavery abolitionist named John Laurens and a tailer's apprentice by the name of Hercules Mulligan. Poised at a pivotal moment in history, they share their dreams of a better future, in a song called "The Story of Tonight."
"Raise our glass to the four of us
Tomorrow there'll be more of us
Telling the story of tonight
The story of tonight."
It is that way, I think, this evening.
I don't think the apostles on that long ago night in the Upper Room had any ideas quite that grand. They could not have known what was about to happen, how their world was about to change.
And yet.
Two thousand years later, here we are: "telling the story of that night, the story of tonight." The story of the Last Supper.
It is a night that reaches across history—a night when our hearts are lifted one last time before they are broken.
As one of the apostles put it at another time, at another pivotal moment: "It is good that we are here."
It is good that we gather to tell this story again.
So much of what we heard from scripture a few moments offers us this simple but insistent message:
What is happening here matters.
Pass it on.
The reading from Exodus, marking the great Jewish event of Passover, concludes:
"This day shall be a memorial feast for you, which all your generations shall celebrate with pilgrimage to the Lord, as a perpetual institution."
Pass it on.
In his letter, St. Paul wrote to the people of Corinth the earliest account of the Last Supper and said:
         "I received from the Lord what I also handed on to you."
It was passed on to him. He passed it on to them.
Here it is, he is saying.
Pass it on.
And in St. John's Gospel, Jesus tells his followers after he has washed their feet:
         "I have given you a model to follow."
This is our model and our mission: Pass it on.
But what is it, really, that we are passing on?
To begin with, there are two great events that we commemorate this evening: the institution of the Eucharist and the institution of the priesthood.
At the Last Supper, we are reminded that Jesus gave us himself—body and blood, soul and divinity—and gave us, as well, the way to keep giving us himself, through the priesthood.
We can't let this night pass without expressing gratitude to Almighty God for the men who give us again and again the immeasurable gift of the Eucharist—and who give us, as well, the gift of their lives.
They continue what Jesus began.
They pass it on.
But there is something else Jesus asked his apostles to carry forward, something else to pass on.
This is our great charge, our great challenge: It is to do what Jesus did.
Daniel Berrigan famously said, "If you want to follow Jesus, you better look good on wood."
This account from John's Gospel tells us where that really begins.
It begins on the ground.
It begins on our knees.
As slaves to one another.
To parphrase Berrigan: If you want to follow Jesus, you better look good with a basin and towel.
We need to serve one another, helping wash away the dirt and the pain and the dust of the world, the residue of life.
The one who received "all power in heaven and on earth" humbled himself not just before his friends. He humbled himself before those who would betray him and deny him and run away in fear.
He did it for this simple purpose: to show them, visibly and beautifully, how to love.
This is our model to follow.
There is where the great work begins. 
We hear it asked often: What would Jesus do?
Here is the answer. Even on the last night of his life, the greatest teacher continued to teach.
Before his own death, he showed us how we have to die to ourselves.
In some places, this day is known as "Maundy Thursday." Maundy is derived from the Latin word "Mandatum," meaning "mandate." What is our mandate?
It is there in the verse that was sung before the Gospel, and it comes from words Jesus speaks just after this scene:
"I give you a new commandment. Love one another as I have loved you."
Love one another.
Pass it on.
In a few moments, the elect from RCIA will come forward to have their feet washed. My brothers and sisters, try to remember this night, this event, because it reaches beyond just getting your feet wet.
Remember the words of Jesus.
Remember our call, our command, our mandate:
"Wash one another's feet. I have given you a model to follow, so that as I have done for you, you should also do."
Remember what this means. Cherish what is about to happen here.
That includes the rest of this beautiful evening—even the way it ends. This, too, is part of the story of tonight.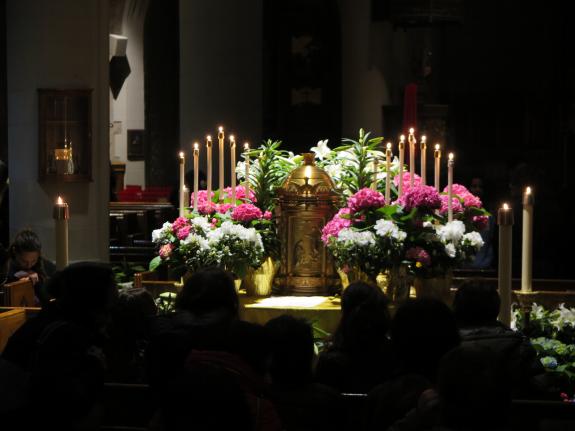 Tonight, like the apostles, we will walk with Jesus to a garden—that tabernacle surrounded by fresh flowers in the middle of the church.
So often, Jesus has walked with us.
Tonight, we walk with him.
We pray with him, and pray for one another. We pray for our broken and wounded world.
And there, amid all the flowering signs of life, we remember that mankind's fall began in a garden named Eden.
And we remember anew that Jesus began his Passion—what brought about our redemption—in a garden named Gethsemane.
At his Last Supper, Jesus told us to celebrate the Eucharist with these simple words: "Do this in memory of me."
Well, all of what we share tonight is an act of remembrance.
And adoration.
And faith.
It has been this way since the beginning, that night in an Upper Room when history was made and everything changed.
"Soon there will be more of us, telling the story of this night. The story of tonight."
This is our story.
A story of humility and hope.
A story of sacrifice and salvation.
A story of love.
Pass it on.