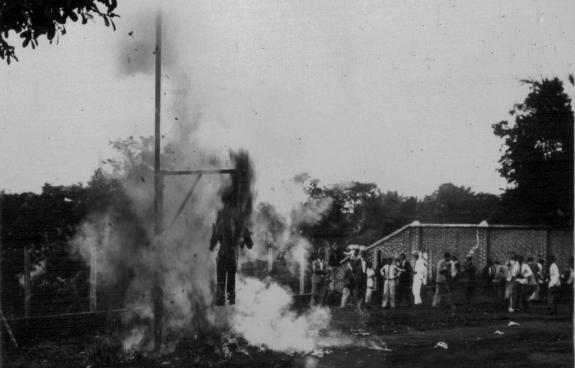 This is a new practice to me, but evidently it's common in some parts of the world:
As Orthodox Christians around the world celebrated Easter on Sunday, a town on Greece's Peloponnese peninsula observed the holy day by burning an effigy of Judas at sea.
The ritual burning of Judas is a custom also observed by Roman Catholics in parts of Latin America as a symbolic punishment for Judas' betrayal of Christ for a monetary reward.
The tradition dates back centuries in some places. In the Greek town of Ermioni, it has been observed the past 25 years.
Some background, from Wikipedia:
The burning of Judas is an Easter-time ritual in many Orthodox and Catholic Christian communities, where an effigy of Judas Iscariot is burned. Other related mistreatment of Judas effigies include hanging, flogging, and exploding with fireworks. Anthropologists generalize these types of activities as "scapegoating rituals". A similar ritual would be the hanging in effigy of Haman and his ten sons during Purim.

Though not an official part of the Easter liturgical cycle, the custom is typically a part of the reenactment of the story of the  Passion that is practiced by the faithful during Easter. Customs vary, but the effigy of Judas is typically hanged (reenacting Matthew 27:5) on Good Friday, then burned on the night of Easter Sunday.

In many parts of Latin America this practice occurs on the eve of the new year as a symbol of ridding one's self of evil and beginning a new year in spiritual purity. Some communities observe this ritual using various effigies, including the biblical Judas (who betrayed Jesus). This custom, during which the effigy is burned on a stake, is invariably called "Quema del Año Viejo" meaning literally "the burning of the old year."
Wikipedia goes on to note that this custom has not been without controversy, with some alleging that it carries a strong streak of anti-semitism. In some countries, it is known informally as the "burning of the Jew."