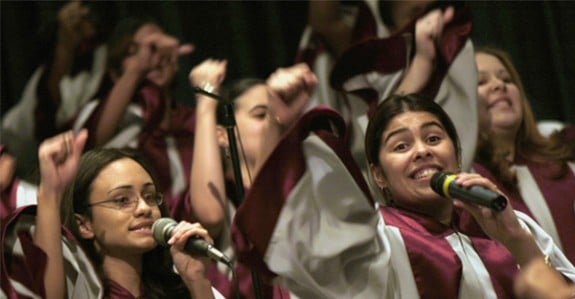 This report from NBC News notes Hispanics represent roughly a third of the 70 million Catholics in the U.S., and the number is growing.
But there are challenges to keeping them in the fold:
The share of Catholic believers is dropping in the U.S. and in Latin America, and young people are the most likely to leave, according to Pew Research.

To draw in millennial Latinos, some Catholic leaders are speaking out in support of immigrants and LGBTQ rights, and churches across the country are boosting their social media presence and hosting young adult masses.

The goal is to stop the church from losing millennials like Nicholas Carrillo, 24, a second-generation Mexican-American who grew up in East Los Angeles, home to one of the largest Catholic populations in the U.S.

Carillo left the church as a teenager because he felt the religion catered more toward his grandparents' generation. He now works full time as a campus organizer for the Secular Student Alliance in Los Angeles.

"I left because I felt like people were being made to believe only out of fear of hell and fear of being punished," Carrillo said. "It seems evil to punish someone for all of eternity for a sin or two."

Carillo is part of a growing group of lapsed Catholics in the U.S. While 70 percent of adult Latinos identified as Catholic in 2006, that figure fell to 57 percent by 2015, according to The Center for Applied Research in the Apostolate (CARA), a nonprofit research center.

In the face of this decline, the church is counting on Latinos like Sara Sánchez. A second-generation Guatemalan American, the 18-year-old Penn State University student is an active member of her local Catholic church.

Throughout my life, my church has been my crutch," said Sánchez, who is from Philadelphia. "When my brother was diagnosed with cancer, the whole congregation was there to support me."

Carrillo is the kind of young Catholic who is active in her parish, participating in service and volunteer projects and helping out with Sunday school programs.
There's much more. Read it all. 
UPDATE: A friend who is Hispanic saw this and had some thoughts. He dropped me an email:
In my humble opinion and experience… most [millennial Hispanics] I think believe in God, even in Jesus. But for most of them the Church is irrelevant as an institution/organization. They are even very genuine in following Christian values and practicing spirituality. Most "kids" now independently of their national origin hate hierarchies. A generation that chooses love over law. And they can smell fakeness hundreds of miles away.

But not only the new generations, also the old ones face a Church that doesn't make feel welcome or not even part of it. A Church with a liturgy not well celebrated, a church which Sunday's sermons are completely unrelated to their every day lives. A church that behaves as Karl Max called it — as opium/escape for the people. In the 1970's a controversial Jesuit in Puerto Rico wrote a book entitled "My Church Sleeps." Today it should be called "My Church is Dying."  That's what I call the failure of the Gospel or of the Catholic evangelization in Latin America. Most of the people have minimum or close to no formation at all. Primary school/1st Communion formation that doesn't answer the adult questions and life challenges = a childish faith.

A Church that doesn't follow the call of Francis to confront our beliefs but instead the message becomes a massage.