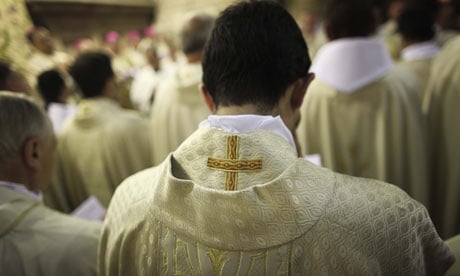 Some other places are showing an uptick as well. Why is this happening? The vocations director of Fort Wayne-South Bend has some ideas:
The five young men who will be ordained as priests June 2 at the Cathedral of the Immaculate Conception — the largest group since 1975 — represent part of a renewed interest in the religious life among young people, the local Catholic diocese's vocations director said.
"I am very proud of the guys we have in seminary now," said the Rev. Andrew Budzinski, vocations director for the Diocese of Fort Wayne-South Bend. "They are wonderful men. The future is very bright for our diocese, I think."

…He credits four factors for the growth of in the number of young men and women pursuing a calling to religious life:

• Many, but not all, have come from parishes where the pastor has been in place for a long time, Budzinski said. When a young man grows up with the same priest, the pastor can have a greater impact as a role model and mentor.

• "They come from families that practice their faith," he said. "They go to Mass together, they pray together."

• Many have been involved in a Catholic Church youth group, where they receive support from other young people about a possible calling to religious life, he said. Youth group members are young people who want to know Jesus and to know and do God's will, he added.

• People's attitudes about religious vocations have changed, and they no longer see becoming a priest as "weird," Budzinski said. The previous viewpoint likely resulted from the Catholic Church's requirement that priests remain celibate, serving as a spouse to all rather than to one person, he added.