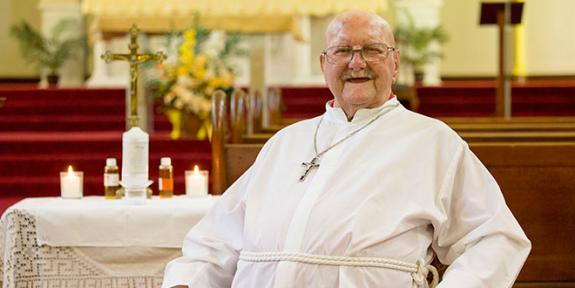 From Australia:
They say practice makes perfect, and the saying couldn't be truer for Brisbane's newest Catholic.

British and Australian army veteran Stanley Everett turns 96 in July, and will spend the rest of his life practicing the tenets of the Catholic faith after receiving the sacraments of baptism, confirmation and Holy Communion last week.

"I'm feeling there's still a lot to learn because to start with, I start to form the Sign of the Cross after everyone else is finished," he said.

"Because you're not ready for it, you don't know when it's going to come.

"Only practice can do that, years of doing it, that's what does it."

Mr Everett has already spent three years learning the Mass at a chapel inside Villa Maria Centre, Fortitude Valley, an aged-care service that he calls home.

"I wanted to be able to take Communion which I've been attending (at Villa Maria) but when it comes to taking the bread, I wasn't allowed to because I wasn't baptized," Mr Everett said.

"I said, 'Well, look, if that's what it takes, that's what I'll do'."

Mr Everett received his First Holy Communion on May 17 at the Villa Maria Centre chapel, just six weeks before his 96th birthday.

The 95-year-old was also conferred the sacraments of Baptism and Confirmation by St. Stephen's Cathedral associate pastor Fr Odinaka Nwadike.

He called the momentous day "a complete change in life". "All my life I've been searching," he said. "To be honest, I don't know who's right and who's wrong, but they all believe in Jesus, all the denominations, and they all believe that he is our savior.

"It's the Communion that brings you closer to Christ. You take Communion, that's what brings you to Christ."
God bless him. Read the rest.