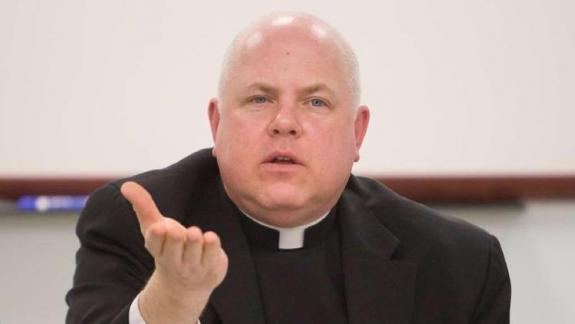 The pastor of Sacred Heart parish in Bath encouraged a teen he was counseling via online video to take his clothes off and perform sex acts, a lawsuit filed Tuesday in Philadelphia alleges.

The suit charges that Monsignor Francis Nave persuaded the boy, who was 16 when the online counseling sessions began in 2011, to disrobe and commit sex acts.

In a statement Wednesday, the Allentown Diocese said it was unaware of the allegations or the lawsuit before hearing about them from The Morning Call. Afterward, it said, it contacted law enforcement and removed Nave from ministry, pending the result of an investigation.

Nave could not be reached for comment. His accuser is anonymous, identified as John Doe in the lawsuit.
The article gives additional details and concludes:
Nave, originally from Hamburg, was ordained a priest in the Allentown Diocese in 1992 and was elevated to monsignor in 2008. According to The Morning Call archives, he has served as director of the diocese's Office of Vocations and Office of Permanent Diaconate. He also worked with Catholic Social Agency and was an assistant pastor at Ss. Simon and Jude in Bethlehem before becoming pastor at Sacred Heart in Bath in 2008.
Read more. And pray for victims, for priests — and all impacted by this ongoing scandal in our church.
Photo: The Morning Call