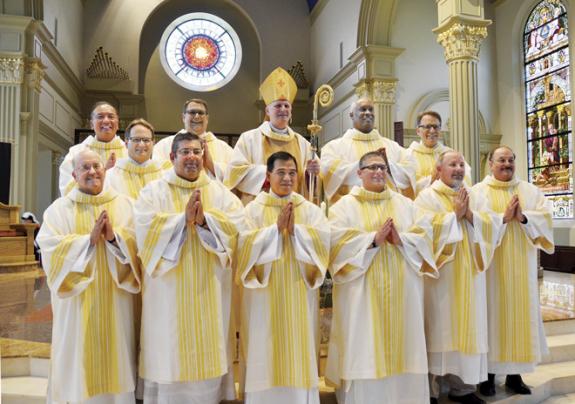 In an age-old rite, 11 men were ordained permanent deacons June 9 as the hundreds who filled the Cathedral of the Immaculate Conception watched.

The men were formally accepted as candidates to the diaconate in June 2015 by Vicar General Father Charles Rowe, acting on behalf of Archbishop Joseph F. Naumann of Kansas City, Kansas, then-apostolic administrator of the Diocese of Kansas City-St. Joseph. Once accepted, Brian Buckner, Robert Falke, Joshua Fultz, James Koger, Michael Koile, Fred Lange, Paul Nguyen, Victor Quiason, Davide Rennicke, Shane Voyles and Joseph Zagar continued formation and discernment for four more years.

Father Rowe had reminded the candidates that "God told the young tongue-tied Jeremiah to set aside his worries. God would be with him. Have no fear … In the years ahead, you will have Jeremiah moments … human limitations and sinful inclinations … reminders of the constant need for God's unfailing grace. Trust the Lord, turn to him in prayer and he will be with you."
Congratulations, brothers, and welcome! Ad multos annos!