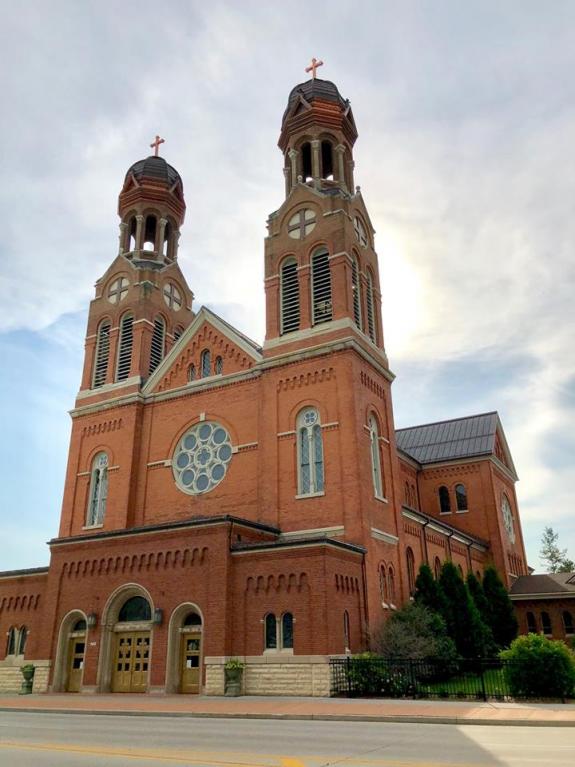 While in Wisconsin for the Catholic Media Conference, I got to attend Mass at Green Bay's beautiful St. Francis Xavier Cathedral and meet Bishop David Ricken.
About the cathedral: 
Saint Francis Xavier Cathedral was consecrated on November 20, 1881 after five years of construction.  The original cost of $35,000 was contributed by the immigrant population of the area, the Bavarian Mission Society in Germany, including a donation from King Ludwig I and friends of Bishop Francis Xavier Krautbauer, the second Bishop of the Diocese of Green Bay.  The architecture is Romanesque in form and was modeled on the Ludwigkirche in Munich, Germany, where then Msgr. Krautbauer was pastor before immigrating to the United States.
There has been some updating:
The most recent sanctuary renovation began in 2006. The present altar is carved white Carrara marble and the relics of Saint Boniface, Saint Timothy, Saint Tiburtius and Saint Francis Xavier repose in the altar stone.  Between the pillars on the left side of the sanctuary is the cathedra or bishop's chair.  The coat of arms of Bishop David Ricken is hung above it.  An altar dedicated to Our Mother of Perpetual Help is located on the left side of the sanctuary and is the only original altar from 1881.  The altar, known as the Peace altar since World War I, honors the men and women of the parish who served in the armed forces.
As you can tell, the interior is just gorgeous.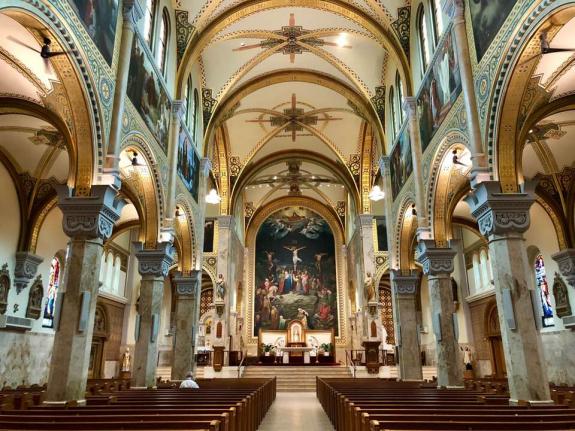 The scene behind the altar is a stunner, depicting the crucifixion.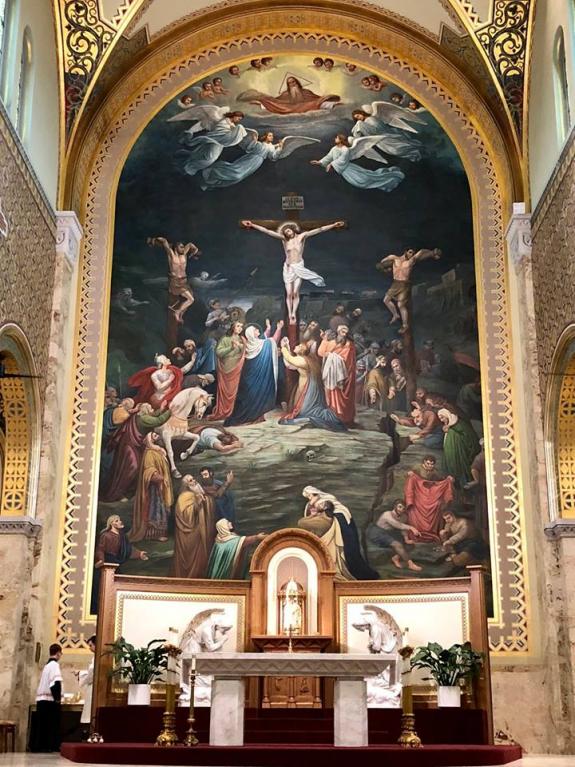 But what really caught my eye were two depictions of the great deacon, St. Stephen. He's painted on a side wall, in dalmatic, at the moment of his martyrdom: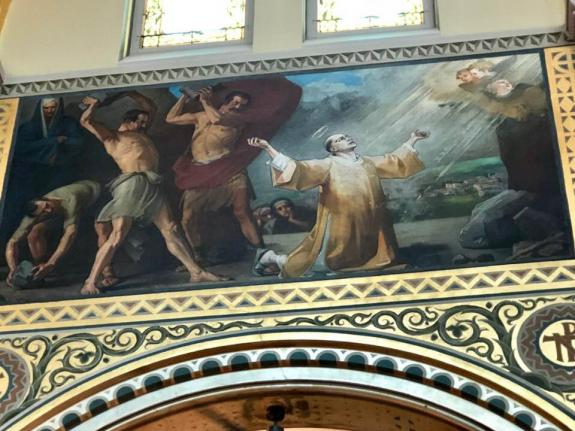 And you can also find him in one of the stained glass windows in a familiar pose: holding the stones that killed him. Not sure how this lowly deacon merited two places of honor, unless he also played football…?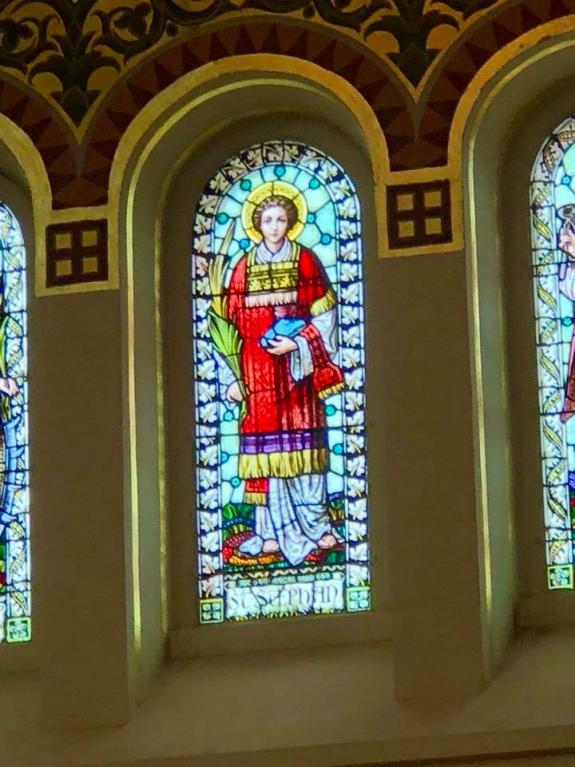 Speaking of deacons, my friend Deacon Jim Hoegemeier, from the neighboring Diocese of Madison, assisted at the Mass and proclaimed the Gospel.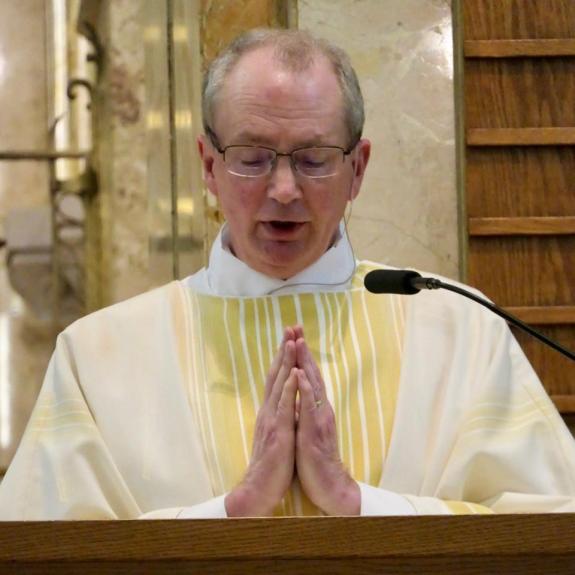 Afterward, I met Bishop Ricken.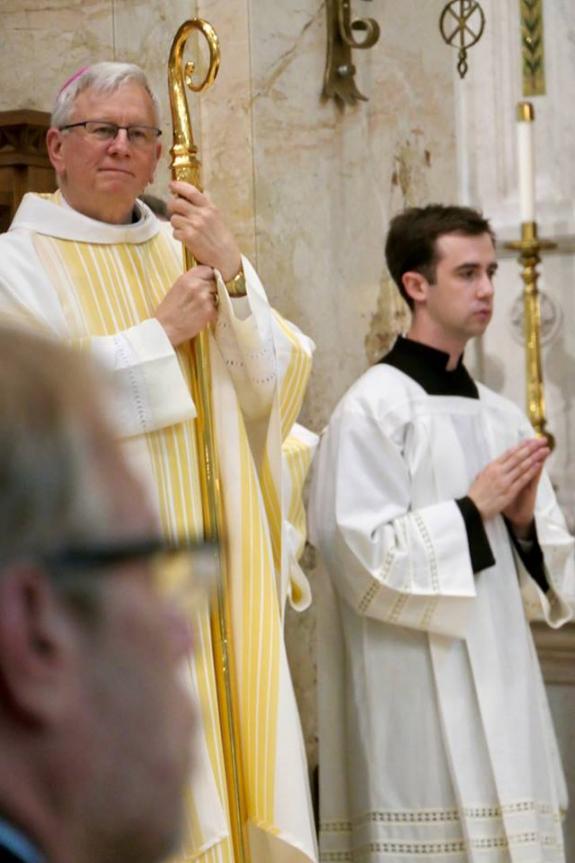 Thanks, Green Bay, for a memorable visit — a beautiful liturgy in a beautiful church!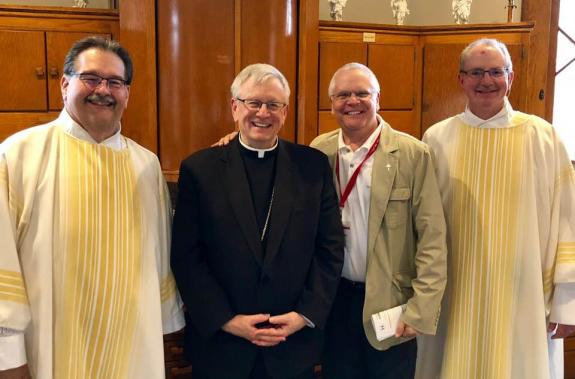 All photos by Deacon Greg Kandra