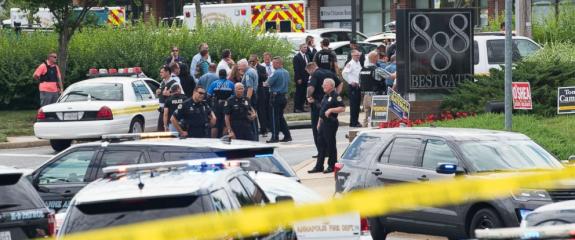 His name was Gerald Fischman.
When I first met him, we were both students at the University of Maryland, where we worked on the student newpaper, the Diamondback.
I wasn't very close to him. In part, that's because he was a hard person to get to know. He was a couple years older than me, and one of the most eccentric characters on campus—far from what you'd expect a college student to look like in the '70s. Gerald was short, slightly bald. He kept all his shirts buttoned to the top. He wore a cardigan even in warm weather and carried a briefcase wherever he went. He was the textbook definition of "nerd."
He was also painfully shy. An editor from our college days tells the story of meeting him for the first time."Gerald stood in back of the room," he said, "silent and looking at the floor, for 10-15 minutes. I finally walked up to him and asked if I could help. He looked up, avoiding my eyes but facing in my direction, and said: 'I want to be a reporter.'"
Well, he became one—and a very good one, the kind that wins awards for his work. He became a gifted editor, too. After graduation, he ended up working at some small newspapers, eventually finding a home at a paper in Annapolis, the Gazette. He worked there for nearly 30 years.
And it was there in the newsroom last Thursday afternoon, in the middle of an otherwise ordinary day, that Gerald Fischman lost his life.
Gerald was one of the five staff members of the paper who were killed in that attack that made headlines around the world.
He was 61 years old.
Friday, Laura Lipmann wrote in the New York Times, "Mass shootings, whether in workplaces, schools or communal spaces, have become so common that it seems inevitable that everyone in the United States will eventually have one degree of separation from one."
Once, I would have thought that idea was absurd.
But that changed on Thursday. Now it has happened to me. I'm one degree of separation from a victim. I knew someone who was killed in a mass shooting.
I find myself processing this, and asking like so many others, "Why?" There are no easy answers. Many people have theories or ideas. But the fact remains: Murder is part of our broken, fallen world, and it's been with us since Eden, when a man in anger first took the life of his brother.
But, as I confronted all this over the last few days, I found myself also confronting these words of scripture that we just heard—literally words of Wisdom, from the Book of Wisdom:
"God did not make death, nor does he rejoice in the destruction of the living.
For he fashioned all things that they might have being…

… God formed man to be imperishable; the image of his own nature he made him."
What this tells us is something surprising and poignant: death causes God to grieve. It destroys something he created, someone he loves.
But there is also this: death isn't the end.
We see that vividly in the Gospel, with the account of the little girl Jesus brings back to life.
It is a miracle of such simplicity, and generosity, and tenderness and hope—a beautiful reminder that "God formed man to be imperishable."
What starts out as a story about death and grief is transformed into a testament of courage—and, something more.
"Do not be afraid," Jesus tells the father. "Just have faith."
Faith. It is just that simple—and just that challenging.
It all comes down to faith—total trust in the goodness and graciousness of the Lord. It is faith that brings hope, that brings comfort, that brings forth possibility.
In this Gospel, possibility becomes reality, when Christ restores a young girl to life.
Death doesn't have the last word. It never does. Think of all the times we see this in the Gospels.
Christ reaches out his hand —and a dead child comes back to life.
He calls — and Lazarus staggers from the grave.
Jesus surrenders everything on Good Friday — but then, incredibly, there is Easter Sunday.
Death doesn't win.
Even in this Gospel from Mark, death doesn't have the last word.
That belongs to Jesus.
And the word is: "Arise."
"Arise," he says. Get up. There is more to your story.
That is true for all of us. Jesus reaches out to us when all seems lost—and then he tells us, no, it isn't.
Arise, he says. It isn't over yet. There is more.
Christ's healing touch makes the impossible possible. He brings light into darkness, restores life from death.
It happens in our lives.
In our hearts.
In our world.
The story of Gerald Fischman brought back a lot of memories for me, a lot of emotions. Shock, disbelief, sadness. I remembered when I was also standing in that same newsroom as a terrified 18-year-old college freshman, looking at the buzz of activity around the copy desk and saying to myself, "I want to be a reporter."
And now here I am—a reporter of a different kind, standing before you week after week not reporting the news, but proclaiming the Good News, the Good News of redemption and resurrection and renewal and telling the Greatest Story Ever Told.
I have spent most of my life as journalist, and will always carry in my heart an abiding love and respect for people who don't get a lot of love and respect these days. Reporters, editors, photographers, camera crews.
In other words: Journalists.
They are men and women I have known and worked with and who have done their jobs often with great courage, and always with honesty and integrity and dedication.
Men and women like the five people who worked at the Gazette in Annapolis.
Gerald Fischman. Rob Hiaasen. Wendi Winters. John McNamara. Rebecca Smith.
As you prepare to receive the Eucharist this morning, I ask you to please spare a moment to pray for them and those who love them.
Pray, as well, for the troubled man who took their lives.
And pray, especially, for our troubled world—and for our country.
The lesson of this Gospel could not be more timely or more necessary. It is, I believe, a lesson of courage, persistence—and, ultimatley, hope.
May all of us strive to follow Jesus as the father of that child did— trusting completely in all the Lord has done, all he is doing, all he will do.
And may our hearts hold fast to this truth, one that defies even death:
Do not be afraid. Just have faith.