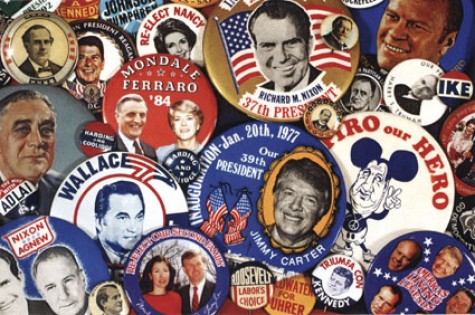 After last week's news, some clarification from local church leadership.
From CNS:
Montana's two Catholic dioceses have reiterated their respective policies on political involvement, saying that support for or opposition to a particular candidate by any representative of the diocese is not permitted.

The dioceses posted statements on their Facebook pages after four Montana Catholic priests were strongly criticized locally and nationally for wearing clerical attire to President Donald Trump's Montana rally July 5. They garnered national attention because they were seated in the front row behind Trump's podium.

Two of the priests were from the Great Falls-Billings Diocese, headed by Bishop Michael W. Warfel, and two were from the Helena Diocese, which currently does not have a bishop, since Bishop George L. Thomas was named to head the Diocese of Las Vegas. Msgr. Kevin O'Neill is diocesan administrator.

Msgr. O'Neill reiterated his diocese's policy: "Religious leaders should avoid taking positions on candidates or participating in political party matters even while acting in their individual capacity. Although not prohibited, it may be difficult to separate their personal activity from their public role as a church leader."

In his statement, Bishop Warfel urged a careful review of the Great Falls-Billings diocesan policy on political activity, which states "supporting or not supporting a particular candidate as a representative of the diocese is not permitted." The policy also cautions against parishes taking a public stand on a candidate and distributing voter materials "prepared by other organizations."

…Bishop Warfel said among numerous comments and emails he has received about the priests being at the rally, many said the "church/religion has no business being involved in politics."

"If this means partisan politics, I agree," he said. "If it means restricting religious faith to the sidelines, ruling out any engagement of religious groups — and some would just restrict Catholics — I completely disagree."

Bishop Warfel said it would be hard to imagine a world where Catholic leaders do not speak out in the political arena on moral issues — against oppression of peoples and in support of human life and dignity, care for the environment and care for the poor and marginalized, to name a few issues.