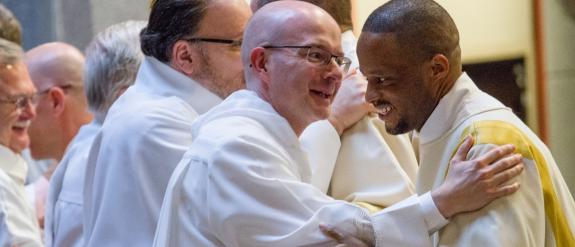 Deacons, take note: the intrepid editorial staff at the Catholic Herald—newspaper for the Diocese of Arlington, in Virginia—has undertaken an extraordinary project, with a regular series in the paper this year devoted to the diaconate. It's all pegged to the 50th anniversary of the diaconate's restoration as a permanent order.
The Herald's social media coordinator, Mary Stachyra Lopez, dropped me a note the other day to alert me to the series:
The articles explain the origin and ministry of a deacon, and profile many of our local deacons who work in areas such as teaching, Black Catholic Ministries  and more. The deacons have a wide range of life experiences; for example, one is a young, never-married deacon, while another came to the U.S. by way of wading across the Rio Grande. There's also a YouTube playlist. Both the page and the playlist will be updated with more profiles throughout the year.
Kudos to the folks at the Catholic Herald for embracing this project and executing it so well. (I sense a CPA award in your future!) At a time when too many tend to treat the diaconate with a shrug or a yawn — if they treat it any way at all — it's heartening to see this vital and growing vocation being given its due (and more!) in the Catholic press.
Thank you for this. You guys rock.
You can find the whole series so far at this link. And check out one of the recent videos below.  You can find more archived on the paper's YouTube channel.
UPDATE: My brother deacon Christopher Connelly up in Boston alerted me to a series they have undertaken up there in The Boston Pilot:
I also call your attention to an article series that I am coordinating with two other Deacons in the Archdiocese of Boston that is published in the Boston Pilot every two weeks entitled "Diakonia: A Revolution of Tenderness."  These articles are written to not only commemorate the 50th anniversary of the diaconate's restoration as a permanent ministry in the life of the Church but to highlight the diakonia that is common to all believers.
Check it out! The series can be found by searching the site of The Pilot—and the most recent article is right here.